11 Things You Didn't Know About 'Pretty In Pink'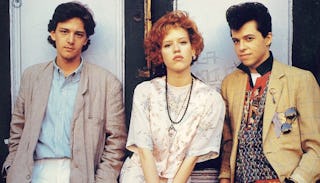 Paramount Pictures
Like most who grew up in the '80s, I grew up watching my teen angst play out on the big screen through John Hughes' string of iconic movies, from Pretty in Pink and Sixteen Candles to Some Kind of Wonderful and The Breakfast Club. The characters' struggles of unrequited love, the comparisons between the haves and the have-nots, and the hierarchy of the social pecking order mirrored my own teen struggles—often to some amazing soundtracks.
According to a recent Rolling Stone article, Pretty in Pink turns 30 this year. This gives us fans a great excuse to watch the movie again so we can see Molly Ringwald as working-class outsider Andie, Andrew McCarthy as rich, boy-wins-girl Blane, Jon Cryer as Andie's misfit best bud Duckie, and James Spader as upper-crust, boy-you-love-to-hate Steff.
To celebrate Pretty in Pink's 30th anniversary, I dug a little deeper into the movie to uncover these fun facts from IMDB and other sources:
1. Can you imagine anyone but Jon Cryer playing the role of lovable Duckie? Yet if producers had gotten their way, Anthony Michael Hall might have played Andie's oddball best friend. When Hall declined the role for fear of being typecast as a geek, Hughes thought of casting Robert Downey, Jr., but ultimately chose Cryer for the role. (Interestingly, Hall also turned down a part in Ferris Bueller's Day Off.)
2. It seems like Molly Ringwald was born to play Andie, and Hughes specifically wrote the role with her in mind. But she initially turned it down. So guess who else was considered for the role? Jodie Foster, Sarah Jessica Parker, Tatum O'Neal, Brooke Shields, Lori Loughlin, and Diane Lane. After hearing how the producers had a difficult time replacing her, Ringwald finally agreed to play Andie.
3. Ironically, of all the films she's made, Ringwald now cites Pretty in Pink as her favorite one.
4. Ever the villain at heart, James Spader (hello, Blacklist) turned down the role of nice boy Blane and chose to play bad-ass Steff instead. Another bad boy (Charlie Sheen) also auditioned for the role of Blane.
5. Pretty in Pink's amazing emo-charged, new wave soundtrack made No. 11 on Rolling Stone's "The 25 Greatest Soundtracks of All Time."
6. Hughes got the idea for Pretty in Pink after Ringwald told him about the Psychedelic Furs' song of the same name. He wrote the screenplay a week after finishing Sixteen Candles, according to a 1986 article in Seventeen Magazine where Ringwald interviewed Hughes.
7. Jon Cryer reprised his famous Duckie dance in the record store on a recent episode of The Late Late Show. As a side note, Jon Cryer missed the opportunity to play Chandler Bing on Friends due to an audition tape customs glitch while he was in the U.K.)
8.Pretty in Pink and Grease were filmed in the same high school in Los Angeles.
9. In the original ending, Andie ends up with Duckie rather than "richie" Blane. But test audiences disapproved of the Andie-Duckie match-up and instead favored the star-crossed pairing of Andie and Blane.
10. Hughes also worried that the original ending might send the message that people of different economic backgrounds don't belong together, so he nixed the Andie-Duckie ending and re-shot it. The problem? By the time he called back the main actors months later to re-do the scenes, Andrew McCarthy was already deep in role-prep for an upcoming play and had lost a lot of weight and shaved his head. In the film's end scenes, you might notice McCarthy looking rather emaciated and wearing an auburn wig not quite matching the hair color we see in the rest of the movie.
11. Despite their on-screen dislike for each other, in real life, Ringwald had a crush on Spader, according to an interview in The Atlantic.
Isn't it fascinating to know that some of our most beloved movies oftentimes are what they are due to a series of mishaps and coincidences? Would the movie have been such a classic if Andie had ended up with Duckie or someone other than Molly Ringwald had played the central role? Thank goodness everything worked out the way it did. Now, if you'll excuse me, I need to go pop some popcorn.
This article was originally published on