Inspiring Program Lets You Send A Token Of Solidarity And Love To A Grieving Mom
by Ashley Austrew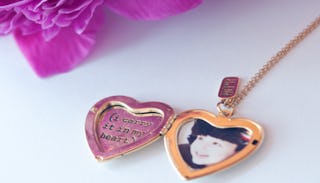 PRET*TY Locket Program funds beautiful gifts for bereaved moms of cancer victims
Every day, cancer claims the lives of seven U.S. kids. For their families, the pain of that loss never disappears, but what helps more than anything is the reassurance that their precious babies' lives will never be forgotten. That's why one brave and inspiring mom started a program that allows anonymous donors to fund beautiful memorial lockets to be sent to grieving mothers.
The PRET*TY Locket Program was inspired by Ty Louis Campbell, a young cancer warrior who passed away at age five. Every day, his mom, Cindy Campbell, wears a gold locket containing his photo and a quote from an E.E. Cummings poem: "I carry your heart, I carry it in my heart."
In her son's honor Cindy started the Ty Louis Campbell Foundation for research on childhood cancer, and the PRET*TY store, which raises money for the foundation — 100 percent of the proceeds benefit research — and allows donors to anonymously send similar lockets to other moms who've lost kids to cancer. Here's a video with some testimonials from moms who've been gifted with a locket:
Mother's Day Tribute – The Locket Program from Ty Louis Campbell Foundation on Vimeo.
For each $40 donation to the program, a gold locket containing a child's photo is mailed anonymously to his or her grieving mom. If a donor wishes to specify a bereaved mom to receive the gift, they can provide the mother's information, otherwise recipients are selected at random via social media, word of mouth, or nominations on the store website. You don't have to make a donation in order to nominate someone, and moms can even nominate themselves.
Donors to the locket program receive a keychain, a letter of gratitude, a photo of the recipient with her child, and a website where they can go to learn more about the family's story. Empty lockets are also available for purchase, in case someone wants to personalize it themselves or gift it to someone who didn't lose a child to cancer.
Cindy Campbell tells Scary Mommy she hopes the gesture provides comfort to other moms like her. "I know for me, personally, it is so important that my son is remembered," she explains. "I believe this program will show these moms that their child is being honored by strangers around the country. Small gestures such as this provide comfort in knowing our child is gone but not forgotten."
With Mother's Day around the corner, the program already has about 50 lockets set to be delivered, but not all of them are funded yet. "We are often covering costs after lockets have already been sent to moms," says Campbell. "It's an ongoing program but we tend to send out the most lockets this time of year."
One can only imagine the pain of facing Mother's Day after losing a child, and it's extraordinary that so many grieving moms this year will get the gift of one of these beautiful lockets. Hopefully one day there will be no need for these lockets anymore, but until then, each donation is a small gesture to let grieving parents know how much we care about them and their families. It's a way to let them know we're carrying their babies in our hearts too.
To purchase a locket, please visit the PRET*TY Store donation page.
This article was originally published on