Little Girl's Act Of Kindness Toward Grieving Teacher Moves Internet To Tears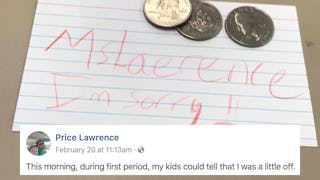 Image via Facebook
Viral Facebook post shows one student's heartbreakingly sweet gesture toward her teacher
Grab the nearest pillow to squeeze. A student just did the sweetest thing to help her grieving teacher — and your heart will melt into so many pieces. Seriously, grab the tissue box NOW.
Price Lawrence, a sixth grade teacher in Alabama, took to Facebook to share a story about one student's very kind, empathetic gesture.
"This morning, during first period, my kids could tell that I was a little off," Lawrence recounted. "When they asked why I wasn't acting normal I explained to them that my wife's father had passed away this weekend and that I was worried about her."
The students expressed their condolences, and class went on as usual. Then, right at the end of the period, one girl decided to go the extra mile for her teacher.
"While standing at my door giving hugs and high fives at dismissal to 2nd period one little girl put something in my hand," Lawrence wrote. "She told me 'This is for your wife. I know it was real expensive when my daddy died and I don't really want ice cream today anyways.'"
OMG. All the feels. All of them.
The gift was a note that read: "Ms. Lawrence I'm sorry :(" along with three quarters. I told you that you would need those tissues and pillow.
If your heart is currently bursting from all this goodness, you're definitely not alone. Thousands of comments have poured in, commending the young girl for her thoughtful, selfless gesture.
Lawrence ended his post with some wise words we'd all do well to remember: "I wish the world would pay more attention to children. We could learn a lot from them."