Prince William Is Every Parent Dropping Off Their Child On The First Day Of School
by Julie Scagell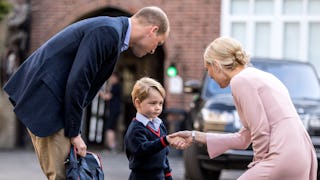 Image via Richard Pohle - WPA Pool/Getty Images
It's another big first for Prince George and his dad
There's a lot about the lives of The Duke and Duchess of Cambridge that us non-royals have trouble relating to. But if there's one thing we can all find common ground on it's how bittersweet this morning likely was for Prince William when his oldest child, four-year-old George, started his first day of kindergarten.
George arrived for his first day at Thomas's Battersea School, located near Kensington Palace, looking as dapper as ever in his school uniform, holding firmly to his dad's hand. He walked towards the head of the school, Helen Haslam, and adorably shook her hand before going inside.
Prince William was solo for the big day; clearly missing was mom Kate Middleton, whose third pregnancy has her once again suffering from hyperemesis gravidarum, a severe type of morning sickness. According to ITV News, the palace released a statement earlier saying, "Unfortunately, the Duchess of Cambridge remains unwell, and will not be able to accompany Prince George on his first day of school."
And mom hearts everywhere broke for her.
George, who's third in line to the throne, seemed to take in his new surroundings (and the absence of his mom) like a pro, though judging by William's death grip on George's little hand, we're pretty sure dad could have just as easily made a break for it, fleeing the scene with George over his shoulder yelling, "JUST FORGET IT. I can't do it. We'll try again next yeaaaaaarrrrrr."
According to the BBC, George will be in a class of 20 other students and will start this year with half days as he adjusts to school life. Ben Thomas, principal of Thomas's London Day Schools, said, "We are going to try and make this a really happy, safe and secure time. I hope he will have the confidence to be himself with all his quirks and his idiosyncrasies and characteristics – that's what I would want for all of our children."
There are around 540 students ages 4-13 enrolled in the school.
We can't even handle that adorable, teeny man uniform and intent gaze.
The school offers a "rich and broad curriculum" including art, ballet, French, music, PE, and places emphasis "on a set of core values, which include kindness, courtesy, confidence, humility and learning to be givers, not takers," according to their website. Sounds like the little prince can expect to learn a lot this year.
We wonder if this is the part where Prince William almost changed his mind and ran back to the palace with his baby boy? Because we're considering it for him. George is getting so big, it's all too much.
But today isn't just about Prince George — the Palace is also looking back to William and Harry's first day of school, accompanied by their late mom, Diana.
So many adorable British tots in uniform, we can hardly take it. Good luck to Prince George – and mom and dad – on a most exciting and emotional "first."
This article was originally published on