A New 'Bridgerton'-Style Dating Show Is Coming To Peacock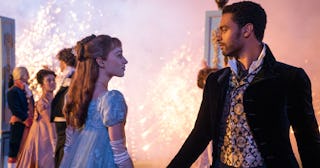 LIAM DANIEL/NETFLIX
A Regency-style dating show is coming and we're here for it
If you feel like you should've lived back in rural England in the early 19th century, there's a new dating show that you're gonna want to watch. It takes what we love about Bridgerton and Downton Abbey, and mixes in a little Bachelor for a Jane Austen-inspired show titled, Pride & Prejudice: An Experiment in Romance.
Lucky contestants will be able to search for their Mr. Darcy in a throwback to the era that includes living in a castle whilst being swept away on carriage rides, boat trips, and archery expeditions, according to Entertainment Weekly. The contestants will also use handwritten letters to communicate with their heroine — a welcomed thought from the days of texting and swiping right.
It remains to be seen if finding love the old-fashioned way will work for these contestants but it seems hard to imagine they won't get swept away by the prospect of romance Jane Austen-style.
The show is being developed and produced by Endemol Shine North America, in association with Shine TV, and will be one of only a few reality shows for the streaming service. Peacock is currently home to Vanderpump Dogs, which follows Lisa Vanderpump and her dog foundation operations. Any show centered around dogs is a winner in my book.
Dating shows are a good bet for networks after the success of the Bachelor franchise. Other series like Love Island, Too Hot to Handle, Summer House, Love is Blind, and Dating Naked (yes, this is an actual show) have garnered millions of fans who have strong opinions about who ultimately wins at love.
"Transported to a Regency-style England, a group of eligible hopeful suitors will have to win the heart of our heroine, and her court," a description from the streaming service reads. "Housed in a castle on the countryside, set on a beautiful backdrop of rolling hills, the heroine and suitors will experience that with which dreams are made of."
In the online casting listing, potential cast members (which are being selected now) are asked a series of questions about their dating life. The questions range from their thoughts on dating apps, what annoys them about dating in today's modern world, what they absolutely won't stand for when it comes to finding a match, and the gender they prefer to date.
Filming for the show will be tentatively scheduled between Aug. 23 to Oct. 8, and contestants must be willing to live abroad during that time (twist their arms). Prospective candidates will also submit a 20-second video about why they think they should be on the show (corsets optional).