Why June Is Hard For Some LGBTQ Folks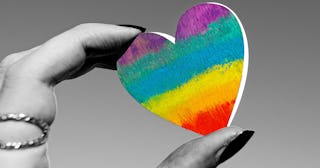 Scary Mommy and Marta Branco/Pexels
Someone asked me recently if I was extra tired because it was Pride month. She understands the exhaustion behind my advocacy work. She sees how draining it can be to be so out all of the time. She truly empathizes with the notion that June can be both a wonderful time to celebrate my queerness and feel oversaturated by queerness—mine included.
Of course, I am not mad that there is a push to normalize, educate, and represent all sexualities, gender identities, and gender expressions. But I am frustrated that there seems to be a need to have it all happen in one month. I am sad that it's the only time of the year that most news outlets, businesses, and social media channels make an effort to represent the LGBTQIA+ community.
Newsflash: Queer people exist year round. We want and need to see ourselves in the media. We want and need to be targets of marketing—not violence. The LGBTQIA+ community wants to be recognized in positive and celebratory light every day. We want and need queerness to be normalized. This last one is the biggest need because a report released by The Trevor Project shows that one in five LGBTQ people ages 13-24 attempted suicide within the last year. One in three transgender and nonbinary folks are part of that statistic. Take a minute to let that sink in — one in five, and one in three.
There is nothing wrong with being LGBTQIA+. Being queer doesn't automatically mean you should feel ashamed or depressed or scared. Yet, being queer means all of those things when we are not accepted.
Amit Paley, CEO and executive director of the Trevor Project, reminds people that the simple fact of identifying as LGBTQIA+ is not what puts youth at risk for suicide. "They are at a higher risk because they face harmful rejection and discrimination from friends, families and communities that can make them feel their lives are worth less than their straight or cisgender peers," Paley said.
The report also showed that two-thirds of LGBTQIA+ youth had someone try to convince them to change their true identity to one that fits the heteronormative narrative. Conversion therapy is still legal and practiced in many states, and kids are getting the message that something is wrong with them.
Society is a mucky middle ground of kids seeing messages during Pride month that tell them they are loved, accepted, and free to be who they are, yet when they look at their most intimate relationships and surroundings, they are being discriminated against, bullied, or ignored. That confusion and frustration can lead to depression, anxiety, and self-harm. It also leads to kids staying closeted. Pride is not a celebration for everyone who identifies as or is questioning a LGBTQIA+ label. For some folks, it can hurt.
We want to be out. We want to be celebrated. But we also want to feel safe. We want to survive the bigots in our lives and the teachers who refuse to incorporate LGBTQIA+ history and topics into the classroom. We want to wave our flags of Pride, but sometimes the best we can do is wave a white flag.
But let me tell you, friends who are struggling, it does get better. I promise. It still really hurts to be queer sometimes. I internalize many messages that tell me transgender people are defects or nonexistent. I struggle to feel at home in my body. I get scared in certain parts of the country when there is no way to fit in. I get so angry by lawmakers taking away my rights to an equitable and secure life just because I am not straight and cisgender. It really sucks sometimes to be queer and nonbinary.
But here is the better part. I have met some amazing people—both allies and other members of the queer community who love and support me for being exactly who I am. I have found people who not only see me, but who fight for me. I am making plans to get my body to where I want it so I can settle in. I see changes slowly being made. I feel a shift in the conversation; people are going from resistant to willing to learn. The more out I am, the happier I am. Living my most authentic life is not always easy, but it allows me to live my happiest life. I am loved not in spite of, but because I am queer.
There is still a lot of work to do. And the oversaturation of Pride needs to bleed into the other months of the year if we are truly going to make changes in this country. LGBTQIA+ folks exist all year long. We are normal. The way we love, live, and express ourselves is normal. Thankfully there are some really wonderful organizations that are telling the world—and you—this too.
Here are some powerhouse organizations working to protect and uplift the queer community. Please access these services to make your school and your work place more LGBTQIA+ inclusive. Please use these services if you are hurting. Direct friends and family members to these places if they need support. And if you don't feel like any of these places apply directly to you, a financial donation can go a long way to support the one in five LGBTQIA+ youth who believe it's easier to be dead than living as queer person in America.
The Trevor Project offers a 24/7 TrevorLifeline for LGBTQ folks in crisis. Call or text 1-866-488-7386 to speak with a counselor. They also have TrevorSpace, which is social networking site for LGBTQ youth under 25 and their friends and allies.
It Gets Better Foundation was started by Dan Savage and his partner Terry Miller to remind queer folks that life really does get better. The website has over 60,000 videos of uplifting and supportive messages to LGBTQ youth that remind them they are not alone.
Human Rights Campaign advocates for LGBTQ equality and educates the public about the issues impacting LGBTQ people. Their Welcoming Schools program provides resources and trainings for educators to make their classrooms LGBTQ inclusive and safe.
GLSEN works in schools K-12 to create safe and affirming spaces for students no matter their gender identity, expression, or sexuality.
National Suicide Prevention Hotline offers 27/4 LGBTQ safe and affirming counselors ready to chat or talk. Call 1-800-273-8255.
Parents, Family & Friends of Lesbians and Gays (PFLAG) hosts meetings to unite LGBTQ family members, friends, allies so that understanding and equality can coexist through support and education.
This article was originally published on