10 Books To Get You And Your Kids Ready For Pride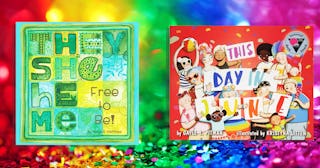 Amazon and Sharon McCutcheon/Pexels
Welcome all guys, gals, and nonbinary pals! June is LGBTQ Pride Month. Three cheers for queers! Yay gay!
Pride is about community, safety in numbers, and normalization through representation. Pride is about love and recharging so we have the energy to continue the fight for equality. And more than ever, Pride is about honoring those brave LGBTQ folks who came before us. This year's celebration is extra special because it marks the 50th year since the Stonewall Riots, the catalyst that would start the long, violent, and colorful fight for equality. A year later, New York City hosted its first Pride march. Please join me, us, at Pride events. We need allies, but we also need allies who understand why we celebrate. Learn a bit of our history.
Whether you are getting ready for Pride or just want to incorporate these lessons into your home and school, here are 10 books that will help you understand why LBGTQ Pride Month is so important to my community.
This beautiful book focuses on Harvey Milk and his rise to become the first openly gay elected official in California. But it also describes Milk's need for unity. He wanted a symbol that could unite LGBTQ folks and allies. His friend, Gilbert Baker, created the rainbow flag. It became the rallying symbol for love, strength, and chosen family. For pride. This was never more present than after Harvey Milk was assassinated. The flag did not fly on the night he and San Francisco mayor, George Moscone, were killed, but it became a symbol of hope. Harvey Milk's message lives on in the colors of the rainbow flag.
This Day In June is a colorful and flamboyant display of images you will see at a pride march. The text is simple and rhyming, but it is powerful. One image which reads "Clad in leather, Perfect Weather" shows men and women wearing varying (kid appropriate) amounts of leather. The reader's guide explains that after WWII, gay men began to wear leather as a way to break the stereotype that they weren't manly enough. Because it wasn't safe to be out, leather was also code to other gay men that said, "I'm gay too."
The book also contains suggestions on how to talk to kids about LGBTQ topics.
The Stonewall Riots were what pushed the most marginalized LGBTQ folks over the edge. Police had raided the inn before, but in the early morning hours of June 28th, 1969, the raid got out of hand when queer folks fought back. The police lost control of the situation and the LGBTQ community found the solidarity and courage to start organizing the fight for equal rights. This moving story will empower cisgender and straight allies while reminding them of the privilege they may take for granted at times.
This book describes 100 years of LGBTQ history through personal stories and firsthand accounts of pivotal moments in the fight for equality. The book also includes 21 activities to get you and your children actively learning and talking about the push for LGBTQ rights. From Washington's army to marriage equality, you will attend Pride with a greater sense of what the queer community has had to overcome.
Do you really know what LGBTQIA+ letters mean? Do you have a solid understanding of sex vs. gender? And what is gender expression? This book does a great job of unpacking the core concepts of identity and sexuality. This book is great for allies to feel more comfortable with topics that don't fit into the heteronormative so that they can have the confidence to keep speaking up for, but not over, marginalized voices.
It is never too early to start talking to your kids about all kinds of love and the people who express that love. Rainbow: A First Book of Pride explains the meaning behind each color in the pride rainbow flag while affirming LGBTQ families and individuals. This book will help you celebrate diversity and show your potentially queer child that you love them unconditionally.
This book profiles the brave and determined folks who fought bigotry, politics, and members of their own families to create safe and tolerant spaces, if not accepting and equal ones. There are so many key players in the LGBTQ movement who need to be known. These people are part of American history and their stories need to be remembered. Not all heroes wear capes, but if they did, these super humans would wear rainbow ones.
Marriage proposals abound at Pride, and I will always be a sucker for them. Worm Loves Worm shows us that you don't have to do love or marriage the way it has always been done. You can follow your heart and make up your own rules, because worm loves worm and love is love.
9. I Am Jazz, Jessica Herthel and Jazz Jennings
Transgender folks are very much a part of Pride. Our blue, white, and pink flags fly as signs of visibility and hope. I Am Jazz tells the story of transgender advocate Jazz Jennings, who knew from a very early age that she is a girl and not the boy she was assigned at birth. Explaining what it means to be transgender doesn't have to hard. Sometimes people are born with body parts that don't match their brain or their heart.
Getting someone's pronouns right is one of the most validating and respectful thing you can do. You will likely see pronoun pins or signs while marching, and, because gender is fluid, you will see pronouns other than he/him or she/her. Many nonbinary friends, like me, use they/them pronouns. I am a mix of being both male and female, but do not want to be gendered with the binary. Pride is my space to relax a bit and to be seen. They She He Me: Free to Be! is a great intro to gender-neutral pronouns, and does a great job explaining why they are so important.
Pride is a ton of fun, but it's also sacred. Please join us, but know we expect a lot of from you. Before you pick up a rainbow flag, pick up a book that explains its origin.
This article was originally published on