I'd Rather Hang Out With Actual Apes Than The Rich Moms Known As 'The Primates of Park Avenue'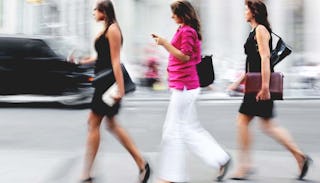 Wednesday Martin is an anthropologist whose spent her adult life living in nearly every neighborhood in New York City. But one particular part of the city unnerved her enough to write a book about the secret society most of us will never get a glimpse into: the lives of wealthy NYC mothers. In speaking about her new book, The Primates of Park Avenue, she tells the New York Post that the little wealthy microcosm of NYC is "the most fascinating and alienating and completely separate world" she's ever encountered.
You may have already heard mention of her book: the "wife bonus" she mentions in it was circulating wildly around the internet last week. The bonus is essentially a year-end monetary gift that some rich wives get as a reward for their performance: getting their kids into a great preschool, keeping up their physiques – that sort of thing. That's only the tip of the iceberg of how these women are different than the rest of us.
These are women who get driven in fancy Escalades to pre-school drop-off, toting $100,000 Birkin bags like it's no big deal. Many of them have given up their careers to raise children and have high-powered, wealthy husbands who they never see. Martin says, "There's this prevailing ethos of tense perfectionism and economic dependency. The men have more power than they do. It is a very traditionally gender-scripted society."
Martin gives more of a glimpse of her book in a New York Times op-ed she wrote called Poor Little Rich Girl. In it, she describes women having large families purely as a status symbol (it is very expensive to raise kids in NYC – what better way to show the world you're loaded than by having your own tribe) and honing in on the kind of competitive mothering the rest of us probably all thought was more of a fictional storyline for a movie plot than actual real life.
She claims the majority use pills, booze and marijuana to cope with their endless search for rich-wife-and-mother-perfection. Everything about their existence seems competitive: the way they mother, the way the look, and the stuff they amass seems to only exist so they can feel like they're "keeping up." To get the information she needed to fully analyze these women, Martin "lived and lunched and mothered with more than 100 of them for the better part of six years." She paints a picture of women so dependent on their husbands to fund their extravagant lifestyles, that they are essentially trapped.
This sounds like a real-life Stepford wive nightmare hell. There's buzz that the women included in the book are freaking out over their stories being told. A source told Page Six, "The author asked a bunch of the moms for their stories for the book, and told everyone she wouldn't say anything bad, then tossed them all under the bus. Everyone is furious, and afraid." You can hardly blame them. "The Primates Of Park Avenue?" Ouch.
Well, at least there will be something new to focus on. I bet their kids are exhausted of being wealth and achievement tokens and a Birkin bag can only be exciting for so long. As far as I'm concerned, these women deserve every penny of the wife bonus — their existence sounds exhausting.
Related post: 10 Reasons I Quit Competitive Parenting
This article was originally published on