Prince Harry Gushing About His Baby And How Amazing Women Are Is So Pure
by Valerie Williams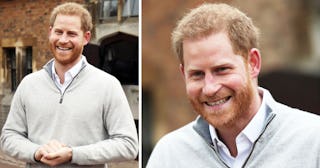 WPA Pool/Getty and STEVE PARSONS/Getty
Prince Harry tells reporters how proud he is of his wife and that his baby boy is "amazing"
If you're like us and dedicating all of today to celebrating the newest royal baby (sips tea with pinky out), then this video of Prince Harry gushing over his new son, his amazing wife, and the wonder of women in general should be part of your life immediately it not sooner.
We got the exciting news this morning that Meghan Markle, the Duchess of Sussex, was in labor — and moments later, the much-anticipated birth announcement came.
So, Meghan's mom, Doria Ragland, is officially a grandmother. Prince Charles is a grandfather for the fourth time. William and Kate have their first nephew on the royal side of the family. Everyone is "delighted," which in British speak, means they're over the dang moon. Mom and baby are healthy.
Now, on to the sweetest part — new dad Prince Harry's impossibly adorable interview about his growing family, given outside Windsor Castle earlier today. Keep in mind, the usual post-royal baby reveal involves both mom and baby along with dad, but it looks like Harry's taking one for their newly-formed team of three and letting his wife and son rest in private. We literally can't get enough of how sweet this is.
He told assembled press, "I'm very excited to announce that Meghan and myself had a baby boy early this morning, a very healthy boy. Mother and baby are doing incredibly well. It's been the most amazing experience I could ever have possibly imagined."
The Prince then moved on from gushing over his wife specifically to giving mega props to women in general. "How any woman does what they do is beyond comprehension but we're both absolutely thrilled and so grateful for all the love and support from everybody out there," he says. "It's been amazing."
Sorry, but we've died of cuteness.
Reporters nudged Harry a little about revealing his new son's name, but it sounds like the new parents either know and want to wait a bit to share — or they're still deliberating. "The baby's little bit overdue so we've had some time to think about it, but that's the next bit," he explains. "We'll being seeing you guys in about two days time as planned as a family to be able to share it with you guys so everyone can see the baby."
We're cool. We can wait.
He wrapped the Q&A session with a little more gush. "I haven't been in many births. This is definitely my first birth," he admits with a chuckle. "But it was amazing, absolutely incredible. I'm so incredibly proud of my wife. As every father and parent would ever say, your baby is absolutely amazing. But this little thing is absolutely to die for. So I'm just over the moon."
So are we, Harry. Can't wait for those pics!