Prince Harry Breaks Down While Speaking About Fatherhood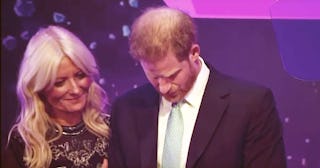 The Telegraph/Youtube
The Duke of Sussex was overcome with emotion while speaking about new fatherhood at the WellChild awards on Tuesday night
As Prince Harry spoke at the WellChild awards in London on Tuesday evening, he struggled to get his words out. The Duke of Sussex was visibly emotional as he talked about attending the awards the previous year with wife, Meghan Markle. The two had only recently learned that Meghan was expecting and were keeping it a secret for the time being. He also reflected on what it meant to him to attend the awards this year, now as a new father.
The awards, which Meghan and Harry attended together, recognize the bravery of seriously ill children, as well as their parents and caretakers. It's an emotional subject to say the least, and as a new dad, it was clear Harry understood even more about how challenging it would be to have a child that is ill and all the emotions that would come with it.
In Harry's touching speech, he said, "Last year when my wife and I attended we knew we were expecting our first child — no one else did at the time, but we did — and I remember squeezing Meghan's hand so tight during the awards, both of us thinking what it would be like to be parents one day."
The Prince then broke down while reflecting on being the parents to a new baby. He talked about how he and Meghan understood that parents would "do everything [they] could to protect and help [their] child should they be born with immediate challenges or become unwell over time."
Harry took a moment to gather his thoughts and bowed his head. He was then comforted by the presenter who stood next to him but his voice wavered in and out as he gave the remainder of his speech. "And now, as parents, being here and speaking to all of you, pulls at my heartstrings in a way I could never have understood until I had a child of my own," he shared.
Harry and Meghan also took time while at the event to meet with many honorees and winners. They were presented with a cute outfit for Archie, too.
It was a genuinely touching moment to see Harry so emotional about new fatherhood as well as all the kids out there who have huge challenges in front of them. Baby Archie, who was born in May, obviously has his dad's heart in the palm of his tiny hand. Parents go through so many changes in the first year with a baby. It definitely seems like Harry is no different just because of his royal status.
While the Duke of Sussex always seemed to strive to be in tune with the needs of others, now that he's a dad he seems far more dialed in. It may have been a tough moment for Harry, but seeing that kind of vulnerability from someone in the public eye is pretty refreshing.