Prince Harry Dons 'Daddy' Jacket And Could He Be Any More Adorable?
by Christina Marfice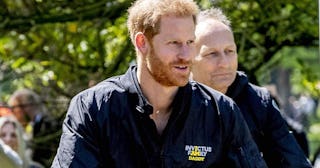 PATRICK VAN KATWIJK/AFP/Getty Images
No one is as excited about being a dad as Prince Harry
Excuse us while our hearts explode, because Prince Harry could not possibly be more excited to be a new dad. He wife Meghan Markle, aka, the Duchess of Sussex, just welcomed their first son earlier this week. Little Archie clearly already has his dad completely smitten because Harry is embracing fatherhood in the most adorable ways.
Currently, Harry is in the Netherlands for the Invictus Games, a sporting event for wounded veterans that Harry has patronized since he helped found the Games in London in 2014. While he tries to participate in the Games wherever they're held each year, his current trip is going to be cut short, because he's obviously in a hurry to get back home to his wife and sweet newborn son. In the meantime, though, Prince Harry is making sure everyone knows how excited he is about being a dad, which includes rocking some personalized swag at the Games.
Harry was photographed around the Games wearing a custom jacket that has "Daddy" embroidered on it right under the Invictus Family logo. Yep, the Duke of Sussex is wearing a personalized jacket to make sure everyone knows of his newest title — the one he's clearly the most excited about.
Couldn't you just die from the cuteness?
In addition to the personalized jacket, Harry received a gift from the Netherlands' Princess Margriet: an Invictus Games onesie for little Archie. Harry looked absolutely thrilled as he accepted the present.
Just look at his smile. We melt.
Obviously, Harry is so happy his little boy has finally arrived. We knew he was excited to be a daddy, but nothing could have prepared us for how cute it's been to watch him really embrace the role now that little Archie is here.
Outside Windsor Castle on the day of Archie's birth, Harry gave an interview to waiting reporters, and he was so excited he could hardly keep it together to speak to them.
"I'm very excited to announce that Meghan and myself had a baby boy early this morning, a very healthy boy. Mother and baby are doing incredibly well. It's been the most amazing experience I could ever have possibly imagined," he said at the time. But the true joy was watching him as he said it. He was positively beaming, like he couldn't have wiped the grin off his face if he tried to. And he couldn't stand still, he was rocking and bouncing like an excited little boy at his own birthday party.
Look at them.
Clearly, Prince Harry is about to become #DadGoals. Heck, he already is #DadGoals. And lucky for us, we have, at the very least, 18 years of this to look forward to. We can't wait to see him continue to grow into his role of the actual world's best dad.