Prince Harry Designed Meghan Markle's Ring With Diana's Diamonds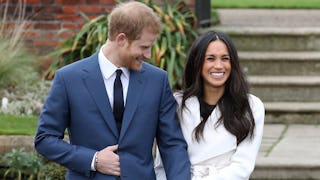 Image via Chris Jackson/Getty Images
Prince Harry did an absolutely beautiful job
After a very official and formal palace engagement announcement was issued for Prince Harry and Meghan Markle early this morning, the next thing on everyone's mind was SHOW US THE RING.
And the photos released by the palace did not disappoint.
Feast your eyes on this incredible piece of jewelry.
Not only is the ring positively stunning, it holds serious meaning for the couple. According to Elle, it was made by Court Jewelers Cleave and Company, but Prince Harry designed it himself using a center stone from Botswana and two side stones from his mother, the late Princess Diana's, collection. Ugh, the sweetness is killing me.
And let's get the usual grumbling out of the way — yes, it's about the marriage, not the ring. Yes, there are other things that matter in the world more than diamonds and royal weddings. No, I am not here for your grousing about how none of this matters because I've been married for about 200 years, I wear mostly stained yoga pants, I have two rambunctious kids, a new puppy, and my house is an eternal disaster. I barely even wear my rings anymore because of all the poop in my life, so kindly shut up and don't take away this joy from me.
Or them. They are straight-up jubilant together, no matter what the ring looks like.
Also, please behold this rock and tell me you aren't tingling from how ridiculously perfect it is. Yes, I'm being materialistic. No, I don't care.
The images of the ring were taken as part of a royal photocall at Kensington Palace Gardens earlier today where the pair made their official public debut as an engaged couple.
They look so insanely happy and we've no doubt Diana would be thrilled for her son and his future bride. There are plenty of us thrilled for her, who woke excitedly at 4 am to watch Prince William marry Kate Middleton and will eagerly do it once again for Harry and Markle.
The wedding is set for next spring, but we hope there will be many more photo ops in the coming months where we can continue to drool over the ring. We need this so badly.