All The Ways Harry Included Diana In His Wedding Day
by Thea Glassman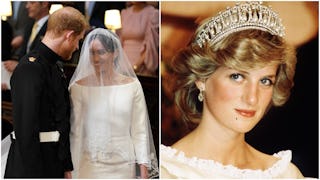 Image via WPA Pool/ Getty/Anwar Hussein/Getty
Prince Harry made sure that Diana was there in spirit
We're all still coming down from the complete high that was watching Prince Harry and Meghan Markle tie the knot. Now that the big moment is done, it's time to take a closer look at all the little details from the day. Like, the fact that Prince Harry subtly included his late mother in so many different ways throughout the wedding and the results were beyond beautiful.
Let's start with Meghan's rings. Harry proposed to his bride-to-be with a ring he designed himself, featuring two side stones from Diana's jewelry collection. He also gifted Meghan with a completely stunning aquamarine ring that once belonged to Princess Diana. She wore it to the wedding reception and it was the perfect something blue.
Harry also wanted to make sure that his mother's side of the family was a part of his big day. "Prince Harry is…keen to involve his mother's family in his wedding," Kensington Palace said in a statement. "All three siblings of Diana, Princess of Wales will be in attendance and Lady Jane Fellowes will give the reading. Prince Harry and Ms. Markle both feel honoured that Lady Jane will be representing her family and helping to celebrate the memory of the late Princess on the wedding day."
When Lady Jane Fellows gave her reading, she was standing in St. George's Chapel, which was decorated in white roses — Diana's favorite flower.
Meghan's bouquet also paid a special tribute to Diana. She carried Forget-Me-Nots, another of Harry's mom's favorites. "The couple specifically chose them to be included in Ms. Markle's bouquet to honour the memory of the late Princess on this special day," Kensington Palace announced in a statement. Harry also reportedly picked some of the flowers in Meghan's bouquet himself from the private Kensington Palace garden. Be still our hearts.
The two also chose to play "Guide Me, O Thy Great Redeemer" during their service, which is the very same hymn that was sung at Diana's funeral.
Some people really, really wanted to believe that the extra seat next to Prince William during the ceremony was left open for the late princess. That theory has since been debunked. Apparently, there's always an empty chair in front of the Queen so her view of everything remains unobstructed. But that doesn't mean that Diana wasn't there in spirit. Harry told BBC News during his engagement interview that he knows his mom is definitely with him.
"It is days like today when I really miss having her around and miss being able to share the happy news… I'm sure she's with us, yeah, you know, jumping up and down somewhere else," he said.
Lastly, and most importantly, Meghan and Harry asked for donations to their favorite non-profits in lieu of wedding gifts. Two of those charities were CHIVA and Crisis, both of which work towards ending homelessness, a cause that was near and dear to Diana's heart.
In case you needed yet another reason to love Prince Harry, the royal really is working hard to continue his mother's incredibly giving legacy — charitable wedding gifts aside. He runs a non-profit called Sentebale, which helps African children in Lesotho and Botswana, many of whom are living with AIDS, another cause championed by his late mother.
"We will do everything we can to make sure that [Diana] is never forgotten and carry on all the special gifts, as such, that she had and that she portrayed while she was alive," Harry told Good Morning America. "I hope she's looking down, you know, with tears in her eyes, being incredibly proud of what we've established."
This article was originally published on