Prince Harry's Birthday Post To Meghan Markle Is Adorably Sweet
by Cassandra Stone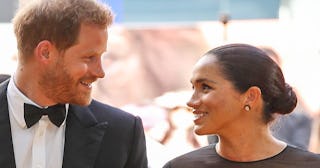 Mike Marsland/WireImage
When it comes to Prince Harry and Meghan Markle, no matter what it is we love to see it
Today is the birthday of the Duchess of Sussex, and the latest Instagram post perfectly celebrates her. She's had a big year this year — first, becoming a mother to baby Archie, fulfilling her royal commitments, meeting Beyoncé, and guest-editing the September issue of British Vogue.
So what better way to honor her 38th year than with Prince Harry sharing a sweet birthday message and beautiful photo of his bride on their official royal Instagram account?
"Happy Birthday to my amazing wife," Harry's response reads in the caption. "Thank you for joining me on this adventure! -Love, H."
It's a warm and loving sentiment not often seen by royals of British past. The way these two are with each other, and how they feel about one another, is evident in every moment we're privileged enough to see as members of the public. They're just really, truly, genuinely in love. It's lovely.
Speaking of Meghan, her work truly speaks for itself. British Vogue doesn't often offer guest-editing positions to anyone (as in, they haven't done it once in the 103-year history of the magazine), so when they did decide to open up the job — who better for it than Meghan?
The Duchess of Sussex decided to make the most of her temporary position with the magazine and the platform that goes along with it to promote the empowerment of women who are changing the world.
The issue, entitled "Forces of Change," has a cover that features some of the most inspirational women on the planet: New Zealand prime minister Jacinda Ardern, boxer Ramla Ali, diversity advocate Sinéad Burke, trans rights activist and actor Laverne Cox, 16-year-old Swedish climate activist Greta Thunberg, body positivity force Jameela Jamil, and more. The photos of all these women are laid out on the cover in a grid, which includes one space that's a mirror, "included so that when you hold the issue in your hands, you see yourself as part of this collective."
Markle also took on a new meaningful project for the fall — she'll be supporting Smart Works, a non-profit organization that helps women into the workforce, equipping them with both the skills and clothes they need to feel job-ready.
In addition to all of that life-changing work, did we mention she had A Moment™ with Beyoncé at the London premiere of The Lion King? Because she did. And it was everything.
Happiest of birthdays to Duchess Meghan, queen of our hearts.