The Royal Family Just Announced Prince Harry And Megan Markle's Engagement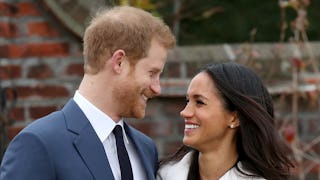 Image via Chris Jackson/Chris Jackson/Getty Images
Prince Harry and Meghan Markle are engaged
Early this morning, the news became official: Prince Harry and Meghan Markle will wed. Kensington Palace released a press release from Clarence House announcing the engagement.
"His Royal Highness The Prince of Wales is delighted to announce the engagement of Prince Harry to Ms Meghan Markle," the press release reads. "The wedding will take place in spring 2018. Further details about the wedding day will be announced in due course."
The release explains that the couple got engaged in London earlier this month, and will live in Nottingham Cottage at Kensington Palace. "Prince Harry has informed Her Majesty The Queen and other close members of his family," it says. "Prince Harry has also sought and received the blessing of Ms. Markle's parents."
Kensington Palace has been tweeting reactions to the engagement — the first, from Markle's parents:
"We are incredibly happy for Meghan and Harry," they said. "Our daughter has always been a kind and loving person. To see her union with Harry, who shares the same qualities, is a source of great joy and passion for us parents. We wish them a lifetime of happiness and are very excited for their future together."
I still remember watching Princess Diana's gorgeous train flowing down the aisle the day she married Prince Charles. I was seven years old. I can't explain a seven-year-old having an immediate affinity for a woman she'd never seen before. But something about Diana was so lovely and kind — I've held her sons in my heart all these years. So admittedly, I'm very excited about watching another royal wedding, and sharing it with my kids. Maybe they won't care, but I'll always be cheering on Diana's kids — and I know I'm not alone.
This article was originally published on