Prince Harry And Meghan Markle Shake Up Wedding Guest List In The Best Way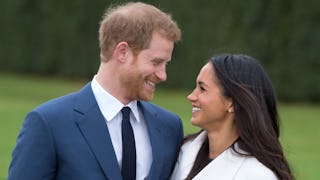 Image via Anwar Hussein/Getty Images
They've invited 1,200 civilians to take part in their big day
Prince Harry and Meghan Markle are determined to make their wedding their own, regardless of the fact that it's a historic, royal event that will monopolize international news coverage for literal weeks.
They're even shaking up the traditional wedding guest list protocol by inviting over a thousand civilians from all over the United Kingdom to help them celebrate their special day.
The list includes "young people who have shown strong leadership and those who have served their communities" — and that, frankly, is just really cool of them.
Harry and Meghan are (wisely) avoiding the politician route when it comes to guests, eschewing prior protocol by not inviting President Obama and Michelle or Donnie and Melania. You won't see any politicians from the U.K. in attendance, either. These two decided to go a more unconventional route, but for great reasons.
Instead, they're inviting people like Philip Gillespie, a wounded Afghan war hero.
As the creator of the Invictus Games — where wounded, injured, or sick veterans take part in multi-sport events — championing and recognizing members of the armed services is an important cause for Prince Harry. And both the younger prince and his brother, William, along with sister-in-law Duchess Kate, have long spoken passionately about causes like mental health and the arts.
In the spirit of celebrating young leaders, they've included this fellow who spends his lunch periods at school teaching fellow students sign language. Oh our hearts.
And this young woman who helps train people with special needs for future employment.
They've also extended an invite to a survivor of the Manchester attack during an Ariana Grande concert last year.
Harry and Megan have asked that, in lieu of wedding gifts, anyone who "might wish to mark the occasion" consider making a donation to one of the charities they've chosen instead.
Their chosen charities represent a range of issues the couple is passionate about, including sport for social change, women's empowerment, conservation, the environment, homelessness, HIV, and the Armed Forces.
Seriously, how sweet is it that people all over Britain were completely surprised with invitations to the royal wedding? Call me a cliché American all you want, I think it's incredibly modern and generous of them to include hard-working, community-focused people to take part in their big day instead of more famous names. And who could blame them for wanting to avoid any political pissing contests when it comes to who got an invite and who didn't?
If you need me, I'll be checking my mailbox for the ninth time today.