Prince Harry And Meghan Markle's Wedding Is Coming -- Here's All The Details
by Valerie Williams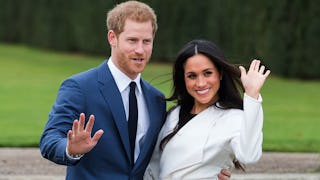 Image via Anwar Hussein/Getty Images
Meghan Markle and Prince Harry's big day is this weekend
The royal wedding of Prince Harry and American actress Meghan Markle is mere days away, and I can barely contain my over-the-top excitement. I already have three alarms set so I'm up in time to watch and my rental corgi should be here any moment (just kidding on the rental corgi but oh how I wish I weren't). In the spirit of the upcoming royal nuptials, here's a little schedule of the day's events and some traditions we can expect to see upheld by the future newlyweds — or not.
Right off the bat, Harry and Meghan are doing a few things their own way — most notably, they're having the ceremony on a Saturday, May 19th to be exact. Most royal weddings have occurred on weekdays — Prince William and Kate Middleton married on a Friday and Prince Charles and the late Princess Diana married on a Wednesday. But this just means it's even easier to catch the festivities live on television as they unfold.
I'm only a little bit excited to watch. Just a tad.
According to Prince Harry's communications secretary, the service will take place at St. George's Chapel on the grounds of Windsor Castle. Guests will begin to arrive between 9:30-11:00 AM with members of the royal family arriving at 11:20. Prince Harry and Prince Willam, who will be his little brother's best man, arrive at 11:45 to greet the thousands of people gathered on the castle grounds who were invited to the big day.
This is also when Harry will have a chance to visit with the 200 representatives from the charities he supports who were invited as well.
Queen Elizabeth will roll in at 11:55, the last member of the family to be seated before the bride makes her big entrance. At 11:59 on the nose, Markle will get to the Chapel by car with her crew of mini bridesmaids and pageboys, likely all children, as is royal tradition.
Who could forget scene-stealing maid of honor, Kate Middleton's sister Pippa, adorably shepherding around the tiny posse of little ones. It's reported that Prince George and Princess Charlotte will play a role, though there's no information from the Palace yet on specifics.
Also? Not going to lie, I'm very much hoping for another moment like this before the ceremony gets underway. MY HEART.
Markle's mom, Doria Ragland, is slated to ride in the carriage with her daughter while her father, Thomas, was to be waiting in the Chapel to walk her down the aisle, though there's been some rumblings the last few days about him possibly not attending resulting in Harry and Meghan begging for privacy while the family sorts things out. Nothing like a little family drama to kick off a wedding, right?
The service should last about an hour and will be followed by the newlyweds' 25-minute ride in a carriage through the streets of Windsor. At 3:30, guests will arrive at St. George's Hall where Queen Elizabeth will host a lunch reception. The newest royal couple will greet guests half an hour later, after their carriage procession is finished.
Their carriage selection was announced earlier this month, and boy is it pretty.
The whole day will be topped off by an evening reception thrown by Harry's father Prince Charles. It will be held at Frogmore House, where Meghan and Harry had their stunning engagement photos taken.
Aside from the schedule of the day, there's some pretty fun details to watch for and things we can expect almost for certain.
Some, like this extremely ornate Instrument of Consent from Queen Elizabeth which gives her official permission for Harry and Meghan to wed, have already happened. The Queen has to give consent as Harry is within six people in line for the throne. The same was done for Prince William when he married Kate.
The royal wedding invites also must come from Her Highness, and that's already been done too.
Others we can only speculate based on past tradition. Like Meghan's bouquet containing a sprig of myrtle that should come from a myrtle shrub planted in 1840 by Queen Victoria, who had some of the flower in her bouquet. Every British royal bride since (including Kate Middleton) has carried myrtle in her bouquet and most of the time, it comes from the bush Victoria herself planted after her nuptials. You guys, I can barely keep a plant alive for a month and these people have had the same bush flowering since 1840. That alone is worthy of awe and recognition.
There's also reports that Markle plans a break with royal tradition, which dictates that only men give wedding speeches, by giving one of her own. She plans it to be an "affectionate" tribute to her new husband and should also include some words of thanks for the Queen, Markle's family, and the friends who have supported the couple.
Please oh please oh please televise Meghan and Harry staring lovingly at each other as she tells the whole room how much she loves him. We need this.
OK, they probably won't do that but it won't stop me from trying to picture it in my head.
Markle will likely arrive in a glass-covered coach, as did future sister-in-law Kate and late mother-in-law Diana.
Though the royal wedding cakes are typically made of fruit cake, a tradition William and Kate followed back in 2011, Meghan and Harry have instead chosen a lemon elderflower cake from London baker Claire Ptak. She's already shared an update on the progress by posting a photo of the gorgeous crates of Sicilian lemons that will be used to make the cake.
It's all pretty freaking exciting and the Kensington Palace Twitter account has been providing fun tidbits about past royal weddings in the days leading up to this weekend's big day.
As far as the future newlywed's last night as singletons, Prince Harry will stay at Coworth Park Hotel with William and Markle will be at Cliveden House, a 17th century mansion-turned hotel, with her mom.
Meanwhile, I'll be breathlessly waiting to see Markle's dress, their first kiss on the balcony, Prince George and Princess Charlotte all dressed up, and all the other fun little details we've come to expect from modern royal weddings. *Rechecks alarms and confirms DVR*
This article was originally published on