Prince Harry Says Trump Has 'Blood On His Hands' During Russian Prank Call
by Madison Vanderberg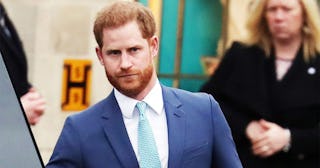 Neil Mockford/Getty
Prince Harry unknowingly talks to Rusian pranksters about Donald Trump, climate change, and leaving the royal family
This is a weird sentence, but everything is wild right now, so here we go: A Russian pranking duo (?) called Prince Harry pretending to be climate change activist Greta Thunberg and coaxed the Duke of Sussex into talking about Donald Trump, his family, and leaving the royal family. Harry spoke to the phony pranksters on two occasions, and now that the phone calls have leaked, palace sources confirmed to ET Canada that the interview was real and Harry was unaware he was being tricked.
Harry mistakenly spoke with Russian pranksters Vladimir Kuznetsov and Alexey Stolyarov and although the whole thing is being billed as a scandal — mostly because of what Harry had to say about Trump — he basically just said what most of already know about Trump.
During the interview, Harry naturally got onto the topic of climate change as he believed he was talking to Thunberg's father Svante and Harry, like many us, point-blank said that Trump is naive and inactive on climate change and that if he continues as he has been, he's got "blood on his hands."
"The mere fact that Donald Trump is pushing the coal industry is so big in America, he has blood on his hands," Harry is heard saying in the tapes. "But Trump will want to meet you to make him look better but he won't want to have a discussion about climate change with you because you will outsmart him."
I mean, where is the lie?
"Unfortunately, the world is being led by some very sick people, so people like yourselves and [the] younger generation are the ones that are going to make all the difference," Harry said on the topic of the climate crisis. "People need to be woken up and the only way to wake people up from what effectively is a consciousness crisis is, I think, you need to be doing extreme things."
Harry also talked about leaving the royal family, saying, "I can assure you, marrying a prince or princess is not all it's made out to be! But sometimes the right decision isn't always the easy one," and that they needed to step down from royal duties to "be able to protect my son." Harry made the chasm between his family unit and that of the royals especially clear when the pranksters asked about Prince Andrew, who was recently tied to convicted sex offender Jeffrey Epstein, and Harry point-blank said, "I have very little to say on that…We operate in a way of inclusivity and we are focusing on community. And so we are completely separate from the majority of my family."
A royal insider told The Sun that this prank happened because Harry now lets his new Hollywood agents handle his press, who apparently didn't investigate the call, but they seemed to forget that that in the '90s, the Queen had a 17-minute phone conversation with a prankster that was then played on a radio broadcast.
At the end of the day, Harry's words about Trump and climate change weren't exactly wrong.