Here's All The Adorable Photos From Prince Louis's Christening
by Valerie Williams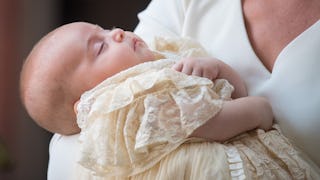 Image via Dominic Lipinski - WPA Pool/Getty Images
Prince Louis was christened today while surrounded by friends and family
Today was a huge day for our favorite royal parents as the third child of Prince William and Kate Middleton (AKA, the Duke and Duchess of Cambridge) was christened and formally welcomed into the Church of England. The event took place at the Chapel Royal on the grounds of St. James's Palace, the very same place where big brother Prince George was also baptized in 2013. But the big story here is this adorable family of five appearing all together, looking freaking precious as ever.
RELATED: 13 Meaningful Gift Ideas For Your Godchild's Baptism
Louis wore the same christening gown as his older siblings, which is a replica of the robe made for Queen Victoria's oldest daughter in 1841 that was worn for all royal christenings. The original is now too fragile to be worn, so a new one was made in 2008. I think he's absolutely rocking it.
Before we get into all the details, just look at them. LOOK AT THEM.
This marks the family's first appearance all together since the birth of Louis, and I'm very here for it. Big brother and sister in adorable duds, walking with Daddy and making very kid-like faces of boredom. Kate holding her sweet baby in his stunning gown. It's all too much for my heart. The Palace shared video of the family arriving for the big event including Duchess Kate entering with the tiny prince of the hour.
RELATED: Wait, Does My Baby Need A Godparent? (And What Do They Even Do?)
The Duchess was overheard telling the Archbishop of Canterbury, the Most Reverend Justin Welby, that little Louis is "very relaxed and peaceful" and "I hope he stays like this." We hope so too, Kate. Solidarity.
Meanwhile, the newly-minted Duke and Duchess of Sussex, AKA, Aunt Meghan and Uncle Harry, arrived together, looking gorgeous as usual.
Louis's list of godparents, however, doesn't include Meghan and Harry. As is their tradition, William and Kate stuck with close friends and other family members rather than immediate family to make up their son's crew of godparents. Nicholas van Cutsem, Guy Pelly, Harry Aubrey-Fletcher, Lady Laura Meade, Mrs. Robert Carter, and Lucy Middleton were all there to welcome the little guy into the church.
And because I can't get enough of this sweet family, here's even more adorableness.
Although the Queen and the Duke of Edinburgh weren't able to make it, grandfather Prince Charles and his wife, the Duchess of Cornwall, were there. From Kate's family, sister Pippa Middleton (currently pregnant with her first child) and brother James were both in attendance along with Kate's parents, Michael and Carol.
We hope this marks the first of many occasions where we can see this way-too-cute family out together.
This article was originally published on