Prince Louis' Christening Pics Are Here And His Siblings Stole The Show
by Jerriann Sullivan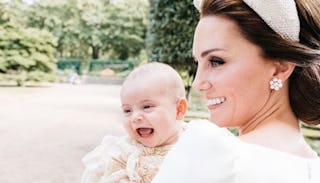 Image via Instagram/Kensington Palace
Prince Louis's official christening portraits are way too cute
While the event took place last week, we're just now seeing Prince Louis' official christening portraits and they're all adorable. Most of the royal family was there for the event and featured in at least one of the official photos. Sadly, Queen Elizabeth and Prince Philip missed the christening thanks to the monarch's hectic schedule, but that's ok. We have hilarious cheesy faces from Prince George and Princess Charlotte to make up for it.
RELATED: 13 Meaningful Gift Ideas For Your Godchild's Baptism
Prince Louis is the third child of Prince William and Kate Middleton, the Duke and Duchess of Cambridge. Baby Louis was christened and formally welcomed into the Church of England during the event at the Chapel Royal on the grounds of St. James's Palace on Monday. Big brother Prince George was baptized in the same chapel in 2013.
The entire extended fam made it into the first shot including the Duchess' sister Pippa, her parents, and the newest royal the Duchess of Sussex, aka, Meghan Markle. Of course, the tiny royal siblings are the best part of all of these photos.
On Sunday, Kensington Palace released four official pictures from the christening and they're all stunning. Louis's mom and dad had one of the world's best portrait photographers, Matt Holyoak, on hand to snap the official photos in the Morning Room at Clarence House. PEOPLE reported that Prince Charles and Camilla, Duchess of Cornwall, call Clarence House their official London residence.
Please feast your eyes on Prince George's "OMG can we get this over with" grin and Princess Charlotte's adorably doting gaze aimed squarely at her new baby brother. Way. Too. Sweet.
"I was truly honored at being asked to take the official photographs at the christening of Prince Louis, and to witness at first hand such a happy event," Holyoak told reporters in a statement. "Everyone was so relaxed and in such good spirits, it was an absolute pleasure. I only hope I have captured some of that joy in my photographs." This wasn't Holyoak's first time working with the royal family. He's also responsible for the official portraits of Queen Elizabeth and Prince Philip on their 70th anniversary, which they celebrated last year.
Can we get an over/under on how many lollipops George was promised so he would deliver this extremely almost-five-year-old grin?
It's hard to choose a favorite of the four photos, especially since so many additional ones were snapped outside before the ceremony by photojournalists. It's just too much cuteness in one family.
And thankfully, the Palace must have heard our gushing and awwwing because they gave us one last parting shot of the tiny prince adorably beaming right alongside his beautiful mum. We can't even.
While this was the first appearance the family made altogether since baby Louis was born, we're sure we'll be seeing the adorable family out and about as he grows up.
This article was originally published on