Prince William Caught On Video Laughing And Joking About Coronavirus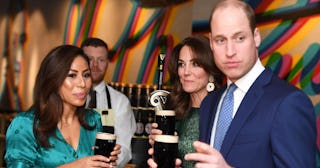 Samir Hussein/Getty
Prince William, we need our leaders to take this health crisis seriously
As the global coronavirus pandemic continues to spread and intensify, we need everyone to take the crisis seriously. It's imperative at this point that people follow recommendations from health authorities, self-isolate to practice social distancing, and pull their full weight to help slow the exponential spread of the virus. Someone please let Prince William know.
The Duke of Cambridge was caught on video at an event in Dublin nearly two weeks ago, laughing and joking with other attendees about the virus. While it's fair to say that two weeks ago, things were wildly different than they are now, it's still remarkably callous for a world leader like Prince William to be publicly joking about an illness that, even at that point, had killed thousands of people around the world.
"I bet everyone's like, 'I've got coronavirus, I'm dying,' and you're like, 'No, you've just got a cough," William jokes in the video, clutching his throat to imitate someone choking (which is not a symptom of the virus, which causes fevers, dry coughing, and shortness of breath, primarily).
Later, Prince Will goes on to say the panic around the rapidly spreading virus "seems quite dramatic," and wonders aloud, "Is it being a little hyped up, do you think, in the media?"
Of course, seeing this video now, we have the benefit of hindsight. None of us knew two weeks ago how quickly the virus would spread around the globe, or how serious the pandemic would become. Still, though, William's complete lack of empathy is shocking people who are seeing the video now.
People definitely pointed out that Prince William's cavalier attitude was all the more shocking, considering his grandmother, the Queen, is part of the population most vulnerable to COVID-19.
The video is circulating online as criticism for Britain's handling of the coronavirus crisis is mounting. As countries around the world are shutting down social gatherings and businesses to encourage social distancing, British Prime Minister Boris Johnson has stubbornly refused to take an offensive position against the virus. Instead, in the U.K., people are only being tested for the virus if they're hospitalized, and people who don't belong to vulnerable populations are being encouraged to live life as normal, knowing they're likely to catch the virus, in order to build up the country's "herd immunity." The strategy has been widely criticized by health experts all over the world.
At this time, we need our leaders to set strong examples for a public that's increasingly anxious and unsure of what's coming next. That includes Prince William, who should apologize for his callous statements in that video.