William And Kate's Family Christmas Card Is Here -- And It's Too Perfect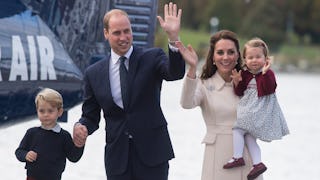 Image via Samir Hussein/WireImage
Prince William and Kate Middleton pulled off another perfectly imperfect Christmas photo
The royal family has released their holiday card for 2017, and of course, it's freaking adorable. It features a stunning Kate Middleton, a proud Prince William, and two of the cutest royal kids on earth. OK, the two cutest royal kids on earth — and soon, it will be three. SQUEAL.
Kensington Palace released the family's official holiday card photo, and it's an absolute winner. The coordinating blue ensembles, the precious pair of royal tots taking center stage, Kate's flowing, shiny, princess waves, William smiling broadly — it's too much sweetness.
But if you're a parent, there are things that will stand out.
First of all, Prince George is about to run. Look at that one foot off the ground, shoe sliding off, impatient facial expression — the photographer probably had .08 seconds to nail it before the little guy split. Prince William's hands on his shoulders are likely part fatherly gesture of love, part keeping his kid from escaping the family photoshoot. He's four years old, this is literally his job.
And then there's precious Princess Charlotte, toddler arms stiff at her sides, with a look on her face that says "hurry up, good sir — I have princess-y mischief to make." We're not sure how she's remaining in place without parental hand restraint, but we imagine a little bribery was involved.
Remember last year's Christmas day church candy cane? These are seasoned parents, y'all.
This isn't the first time the family wowed us with their adorably normal family holiday photos. Last year's wasn't even formally posed, but a cute candid captured during a trip to Victoria, B.C. Because when you're trying to get a fantastic picture of two toddlers, sometimes it's best to not even attempt a formal sit-down situation.
And why bother anyway when the candid looks like this?
And who could forget 2015? Charlotte's missing shoe, the toy train that's almost definitely a "please stay in this one spot for three seconds, George" ploy, and Kate's semi-frazzled (but still insanely gorgeous) facade that reads "take this god damn photo before I scream."
We love that this family doesn't go to unreal lengths to get an immaculate photo of themselves with their two little ones — and that's because immaculate photos that include toddlers simply don't exist. They share beautiful and real pictures of their family and it only makes us love them more. We can't wait for 2018's edition featuring three royal little ones for us to gush over.