Prince William Shares What It Was Like Losing His Mom At A Very Young Age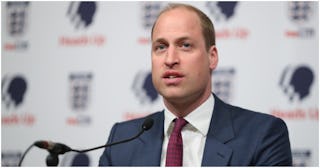 Chris Jackson/Getty
Prince William got very candid about the pain of loss and mental heath struggles
The Duke of Cambridge is using his massive platform to do a whole lot of good. During a BBC documentary about mental health, Prince William sat down with a group of men to discuss the pain of losing his mother at 15 and the stigma men may feel when showing emotions.
William opened about how deeply difficult and completely heartbreaking it was when his mother, Princess Diana, was killed in a car accident.
"I think when you are bereaved at a very young age – any time really, but particularly at a young age, I can resonate closely to that – you feel pain like no other pain, and you know that in your life it's going to be very difficult to come across something that's going to be even worse pain than that," William said.
He emphasized to the group of men that it's so important and necessary to express emotions – even if it doesn't come naturally at first.
"Particularly in Britain as well, we are nervous about our emotions. We're a bit embarrassed at times. You know, the British 'stiff upper lip' thing," William said. "That's great, and we need to have that occasionally, when times are really hard there has to be a moment for that. But otherwise, we've got to relax a little bit, and be able to talk about our emotions, because we're not robots."
The prince's willingness to share his story and be so completely open and vulnerable won him a lot of praise online. Many people pointed out that William was talking about a painful part of his life in order to make others feel less alone.
This isn't the first time that Prince William has been an outspoken advocate for mental health issues. He co-founded an important initiative called Heads Together, which aims to break down stigmas and fundraise for mental health services.
And, back in 2016, he penned a powerful letter on Father's Day which encouraged parents to have open discussions with their children about any challenges they're going through. It might help the young person later down the road, he said.
"What we have seen time and time again is that so many of the issues that adolescents and adults are dealing with can be linked to unresolved childhood challenges," William wrote. "Addicts that were not getting treatment for a serious psychological condition that started in their teens; men who committed suicide who had been depressed since they were in primary school; homeless teenagers who could not confront significant emotional challenges."
William noted that those circumstances might have turned out differently if the people felt that they could speak honestly and openly about their struggles while growing up. "I really believe that a child's mental health is just as important as his or her physical health," he said.
Yup, yup, yup. Amen to all that.