There's A 'Princess Bride' Musical In The Works Because Sometimes, Wishes Come True
by Julie Scagell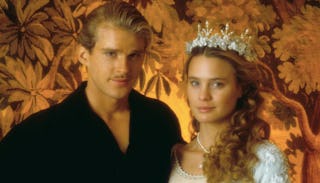 Image via IMDB
Wesley and Buttercup may finally be reunited on stage
As you wishhhhhhhhh. Hold onto your inner Fred Savage, everyone. In news that will make every fan of the classic film squeal, Disney Theatrical Productions is bringing Princess Bride back to life (just like the Dread Pirate Robert) on stage as sometime this year (crossing fingers).
The iconic film has been rumored to be coming to a stage near you for over a decade but all attempts have previously fallen through — until now, Town and Country Magazine reports. William Goldman, the writer behind both the original book and the 1987 movie adaptation, was working on a Princess Bride musical, which fell apart in 2007. There's no official word whether this next rendition will be a musical or play but does it really matter? The stage has been set and it's inconceivable to think it won't happen one way or another.
In 2013, Walt Disney Studios chairman Alan Horn vocalized his commitment to the production happening. "My involvement in The Princess Bride goes back to 1987 and it has always been close to my heart," Horn told the Hollywood Reporter. "For all those years and a few more, I've been friends with the brilliant Bill Goldman, and to now have a stage production of this film in development at Disney is honestly a dream come true."
If you haven't seen Princess Bride, what in the hell are you waiting for? It's the perfect combination of fairytale love story, adventure, comedy, and Rodents Of Unusual Size. There are bad guys to root against, a beloved priest with a speech impediment, and Andre the Giant — what more could you ask out of a film?
Princess Bride is such an iconic, almost cult-like film that it was mentioned on my first date with my now-husband. I managed to work in "no more rhythms I mean it…" waiting for him to finish the sentence so I would know for sure he was the one. Unfortunately, he's from Scotland and (cough) a few years younger than I am and hadn't seen the movie. Once I got over my shock, I continued dating him just to be able to watch him, watch it, for the first time. Needless to say, it's now one of his favs because he knows what's good for him.
Disney called in some serious Broadway power for this newest performance (two with their own Tony Awards) to pen this infamous love story. David Yazbek will write the score, while Bob Martin and Rick Elice (of Jersey Boys fame) will write the book and we can only hope will be as endearing as the original.
Obviously, if the producers don't bring back some of the original cast (RIP Andre the Giant) or famous one-liners, it just won't feel the same. ("Hello. My name is Inigo Montoya. You killed my father. Prepare to die.") And who can predict if they will be able to recreate the magic of Billy Crystal as Miracle Max?
Bottom line, this is one of those films that deserves a second chance and I, for one, will be waiting with bated breath until it makes its way to the big stage.
This article was originally published on