Princess Charlotte's First Day Of School Pics Are Absolutely Adorable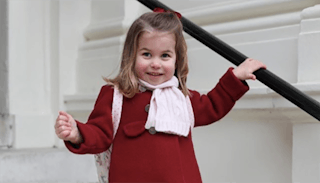 Image via Instagram/Kensington Palace
Princess Charlotte's smile is contagious
It was a big day for Princess Charlotte. The adorable two-year-old royal started her first day at Willcocks Nursery School in London and the pictures are so precious they may just have you contemplating if you should add to your family.
Her proud parents, Prince William and Duchess Kate, shared her pictures on the official Kensington Palace's Instagram account where little Charlotte is smiling from ear to ear before she started her day, striking a pose fit on for a Princess.
"The Duke and Duchess of Cambridge are very pleased to share two photographs of Princess Charlotte at Kensington Palace this morning," it read. "The images were taken by The Duchess shortly before Princess Charlotte left for her first day of nursery at the Willcocks Nursery School."
For her big day, the princess donned a wee red pea coat, adorable ribbed tights, matching red Mary Janes, and a perfect pink scarf.
We can't take it, she's too stinking cute.
Her parents announced she would be attending school a few months back. "We are delighted that The Duke and Duchess of Cambridge have chosen the Willcocks Nursery School for Princess Charlotte," the school said in a statement. "We look forward to welcoming Charlotte to our nursery in January."
It seems like just yesterday her big brother, George, was attending his first day of kindergarten. And while mom missed that occasion due suffering from hyperemesis gravidarum, a severe type of morning sickness, she was able to make her daughter's academic debut and snap the adorable pics herself.
And though brother and sister will be attending different schools, it seems little Charlotte is in good hands at Willcocks. According to their website, they offer one teacher per eight students, ensuring every child is well looked after. Every day she'll be participating in outside activities, cooking, music, painting and story time.
If her excited smile is any indication, it seems Princess Charlotte is thrilled about her new school — and we're excited about all the adorable photos her parents are generous enough to share with us.
This article was originally published on