Princess Charlotte Arrives With Prince George For Her First Day Of School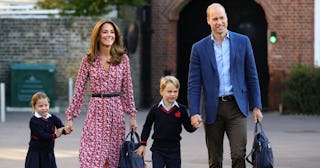 Aaron Chown/Getty
Princess Charlotte just had her first day of school, and she looked adorably nervous
The first day of school is a nerve-wracking, yet exciting time for any kid. Even if that kid happens to be famous the world over and a potential heir to the throne of England, it can still be a little scary to take that big first step toward independence. But don't worry, everyone, Princess Charlotte nailed it, despite looking just a little shy and adorably hiding behind her mom.
The former Royal Baby (like, two seconds ago, I swear, where does the time even go?) had her first day at Thomas's Battersea, the private school that her big brother, Prince George, has already attended for a couple of years. Reporters caught some video of the whole family arriving, with George happily leading the way, and Charlotte looking a little more nervous, tightly clutching her mom Kate's hand and sometimes bashfully standing behind her.
Another photographer managed to get a few shots of Charlotte waving at onlookers as she arrived, looking as ready as any kid can when taking as big a step as this one.
https://twitter.com/jetpack/status/1169515282060271616
Despite her apparent nerves, though Charlotte offered a handshake to Helen Haslem, the head of the school who greeted the family as they arrived. George is clearly doing his part as big brother by showing her there's nothing to fear. These kids are adorable on their own, but together? They're absolutely precious.
We don't know any real details about Charlotte's school schedule, but Thomas's Battersea is a prestigious private school that's known for blending academics with arts education, service opportunities, and a school culture that, according to its website, places "a greater emphasis on a set of core values, which include kindness, courtesy, confidence, humility and learning to be givers, not takers. We hope that our pupils will leave this school with a strong sense of social responsibility, set on a path to become net contributors to society and to flourish as conscientious and caring citizens of the world."
Students there study a core curriculum, as well as subjects like art, music, French, and ballet — a class Prince George loves, as we all know after he was cruelly mocked by a Good Morning America host for it. Hopefully Charlotte will be joining her brother in ballet classes and the two can just dance themselves away from all the haters in the world.
And to her credit, Duchess Kate looks a lot more calm about this than Prince William did when he dropped off George for his first day two years ago. These babies are growing up way too fast, but we can't wait to see how they're going to change the world as they get older.
This article was originally published on