Little Princess Charlotte Made Royal History Today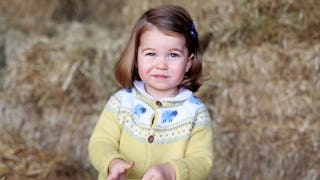 Image via THE DUCHESS OF CAMBRIDGE/AFP/Getty Images
Princess Charlotte's place in line for the throne remains unchanged despite a new prince in the family
Duchess Kate gave birth to her third child this morning, another precious prince to join his two royal siblings. The news is obviously thrilling for many reasons, and one of them isn't making big headlines- but it should. For the first time in royal family history, a prince won't bump his older princess sister in line for the throne. That means that although Princess Charlotte is now sandwiched between two princely brothers, her place in the line of royal succession remains unchanged.
Here's the current line of succession to the throne, with the wee Princess in the fourth slot:
Happily, due to an act passed in Parliament in 2013 ahead of Prince George's birth, Princess Charlotte is fourth in line and that won't ever change because of any future younger brothers. That means baby number three is fifth in line to the throne, right behind his big sister, big brother Prince George, father Prince William, and grandfather Prince Charles.
And it looks like Princess Charlotte is already brushing up on her royal public behavior, being sure to greet her loyal subjects on the way into the hospital to see Mummy and her new baby brother earlier today.
Look. At. Her.
Prince George looks mildly ruffled by the presence of one zillion clicking cameras (as a four-year-old has every right to be) but Charlotte is only delighted with the chaos.
She began to wave almost immediately after William took her out of the backseat of the royal vehicle and didn't stop until she was safely behind the doors of the Lindo Wing at St. Mary's Hospital.
She knows what the people want — an adorable almost-three-year-old princess eagerly waving to her crowd of admirers — and she's only too happy to oblige. We die.
Meanwhile, the Palace's official Twitter account is keeping everyone up to date on the most recent royal baby happenings, including the big sibling visit.
And it looks like the newly-minted family of five will all be together tonight when Kate, William, and the new little guy depart the hospital later.
The Palace then notes that George and Charlotte are back at home after their visit, where the tiny Prince and Princess are no doubt eagerly awaiting their new little brother's arrival. And now Charlotte can be secure in the knowledge that a new little brother won't mean any changes to her future potential queenliness, so she can just do the usual three-year-old big sister taunting instead of plotting her way to the throne.
SaveSave
This article was originally published on