Elementary Principal Uses Social Media To Read Students Bedtime Stories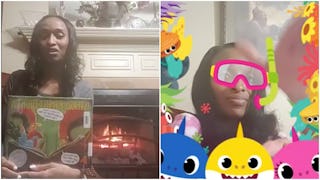 Image via Homer Drive Elementary
An elementary school principal is reading kids bedtime stories on Facebook
Please direct all Principal of the Year awards to Belinda George of Homer Drive Elementary School. She started "Tucked-In Tuesdays," where she gets on Facebook Live every week at 7:30 pm – often in comfy pajamas – and reads bedtime stories to her students. This incredibly smart and thoughtful idea has turned into a big hit with kids and parents alike.
George's work doesn't finish at the end of the school day. She has a whole lot more that she needs to get done.
"I want to extend what I do past 4 p.m.," she told WLKY News. "I'm not in every child's home, so I don't know if all or any of them have someone to read to them at night. This is just a way to give the children that exposure." George's Facebook Live videos take kids on a whole whirlwind of literary adventures, from stories about an impatient chicken to a little girl who wears ladybug wings.
George noted that literary tests from last year showed that just 55% of her students were reading at their grade level or above. She's hoping that "Tucked-In Tuesdays" might help inspire a newfound excitement for reading. So far, it looks like her plan just might be working.
"Kids will come up to me Wednesday and say, 'Dr. George, I saw you in your PJs reading!" she told The Washington Post. "They'll tell me their favorite part of the book." George gives shout-outs in her videos to kids who tune into Facebook Live – and she's learned that she needs to make sure she pronounces every single name correctly.
"They'll come in the next day and tell me, 'You're saying my name wrong,'" George said.
It's not just students who are getting a kick out of "Tucked-In Tuesdays." Parents are also very much on-board.
"I love it because all of my children watch it," Keava Turner, a mother of four, told WLKY News. "I have a 14-year-old, a third-grader and first-grader who go to Homer, and my 10-month-old even sits still to watch."
Most of the comments involve families writing in to say hello and George diligently writing hello back. There's also commentary on the books ("Destiny is laughing really hard 😂😅") and compliments to the reader ("Kudos to you.. what an amazing gift you are giving to your students.. INSPIRING!").
Homer parents and students aren't the only ones tuning in. The Washington Post noted that there are 680 students who attend George's school, and some videos have gotten as many as 2,000 views. So, yes, that means it's fully okay for you and your family to tune into "Tucked-In Tuesdays" as well.
George told 12News that it means the world to her that kids want to hang out with their principal after school hours. "The kids are thinking cool and I'm thinking, 'Y'all don't know how much you're blessing my heart."