Principal Explains Updates To Dress Code: 'Girls Ruin Everything'
by Valerie Williams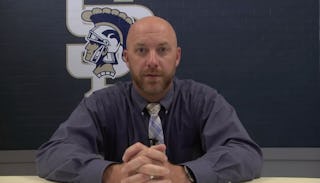 Image via YouTube/Chattanooga Times Free Press
Assistant principal goes viral after comments about female students
In a video addressing a school dress code policy, a Tennessee assistant principal made appalling remarks about girls that, rightfully, have parents and members of the community in an uproar.
Jared Hensley, who is both the assistant principal and athletic director at Soddy-Daisy High School, which is near Chattanooga, delivered a video message to students regarding the dress code — and how it's all because of girls that the rules had to change.
Hensley was speaking about the fact that students are not allowed to wear athletic shorts. He didn't share the actual reasons that motivated the school to make the rule, but he did give his own extremely gross and problematic opinion.
"If you really want someone to blame, blame the girls. Because they pretty much ruin everything," he said.
Take a minute to quell your rage so you don't throw your phone into the nearest body of water — I had to do the same.
He then doubled down on his remarks by bringing the Bible into it. "They ruin the dress code, they ruin…well, ask Adam. Look at Eve. That's really all you really gotta get to, OK. You can really go back to the beginning of time. So, it'll be like that the rest of your life. Get used to it, keep your mouth shut, suck it up [and] follow the rules."
He really went there.
The video was initially posted to YouTube and included footage from student journalist on other topics, but after backlash, was removed. Since then, multiple outlets, including Chattanooga Times Free Press and area women's groups, reposted it.
Hamilton County Schools Superintendent Bryan Johnson has made a statement after reviewing Hensley's comments, which he calls "inexcusable."
"We find the comments about young women in this video inexcusable, as the sentiments expressed do not align with the values of Hamilton County Schools. The situation is under investigation, and this employee has been placed on administrative leave effective immediately," he said. "We hold our employees and our leaders to a high standard, and these comments do not match the high expectations we have for our employees. We seek to prepare all children for success in life after high school and expect our employees to provide an atmosphere that will empower all children to reach their full potential."
With Hensley on administrative leave, the community is left to debate his message — and whether he should still be allowed to work at the school.
District parent Natalie Green tells the Times Free Press that his comments "disgust" her. "The fact that they're coming from an educator is bad enough, but the fact that they're coming from a man in a position of power is even worse. These remarks are blatantly sexist and misogynistic," she says. "And do nothing but perpetuate victim-blaming and reinforce the rape culture that is so insidiously ingrained in our society."
Another mom, Alicia Whitley, viewed his comments in context with the current accusations of sexual assault against Supreme Court nominee Brett Kavanaugh."This is how Kavanaugh is getting so much support from the GOP. This nation has made sexism normal and acceptable. People feel like they can say things like this with no repercussions," she says.
Whitley adds that her own 12-year-old son was "flabbergasted" after seeing Hensley's remarks.
Chattanooga Moms for Social Justice was one of the groups responsible for making sure Hensley's video continued to be shared. Co-founder Taylor Lyons says, "I have no doubt that Mr. Hensley will claim he was joking. However, given the current social climate, his comments are insensitive at best and wildly inappropriate at worst. To suggest that 'girls are responsible for ruining everything since the beginning of time and will continue to do so' is completely unacceptable and he needs to apologize."
And because there's always one (or several) people who feel the need to defend shit like this, school board member Rhonda Thurman thinks that due to recent flooding and the death of a local elderly woman that this is the least of the community's worries.
"There's a lot going on right now to be worried about this in Soddy-Daisy. I'm having a real hard time getting upset about this. I'm not worried about that right now. He meant absolutely no harm by this," she said. "This is so ridiculous. Can nobody take a joke anymore? He was just talking to the kids in their language and trying to be funny."
Well obviously, we can only be upset about one thing at a time, right Rhonda? I honestly may have an aneurysm before today is over.
Hensley can call this a "joke" all he wants, but the fact is, women recognize comments like this. And we recognize the men who make them and the tone they make them in. This wasn't a joke — and whether he comes back to work at the school or not, he owes every girl and woman at that school an apology. It's the literal least he can do.