Anonymous Graphic Designer Brings Social Justice To Grocery Aisles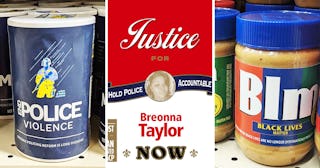 Kitty Stryker/Facebook
A Texas graphic designer created grocery labels to educate people about problems with the police, and you can print and use them, too
As our nation continues to grapple with its foundations of systemic racism, starting conversations about things like BLM and police violence can still be tricky for some people. But what if all it took to spark a conversation about some of these important issues was a trip to the grocery store?
Late last week, a Portland-based reporter tweeted out a photo of what looked like some pretty regular grocery items — that is, until you looked at them a little more closely. "One of my San Antonio friends has been using his graphic design skillz to re-label grocery store cans with facts about local/national police issues and I'm so impressed," her tweet reads.
A Texas graphic designer has created new labels for common grocery items, highlighting issues with both local Texas police, and national problems.
By looking closely at the cans and jars, you can see the messages they're trying to get across. A jar of Jif peanut butter now reads "Blm" for Black Lives Matter. Cans of Campbell's soup are now labeled "Justice" and contain the names and photos of Black people who have been killed by police, like Breonna Taylor and Marquise Jones. A container of Morton's salt has a photo of an officer in riot gear instead of the traditional little girl with her umbrella, and reads, "End police violence."
And one of the most attention-grabbing redesigns focuses on an issue local to Texas: A can of Ocean Spray cranberries has been altered to read, "San Antonio City just added $8.1 Million to the Police Budget."
According to Zielinski, the reporter who tweeted the photos, the designer doesn't want his name attached to this guerilla protest.
"He doesn't want recognition, just wants to elevate these issues," she said.
But for anyone who wants to help spread the word about these important police issues, he did make the design files for the labels printable. In addition to printing them at home, other designers are encouraged to alter the labels to highlight issues local to them, he wrote in a note accompanying the downloadable files.
The designer does note that people shouldn't attempt to attach these labels to products at their own grocery stores. He purchases the products, changes the labels at home, and then brings them back to put them on store shelves, he wrote. He also noted that HEB has asked people to stop doing this at their stores.
But protesting doesn't always mean following the rules. And if this is an effective way to spread the word about these police issues, we're here for it.
This article was originally published on