We Must Prioritize Vaccines For Younger High-Risk People — Like Maura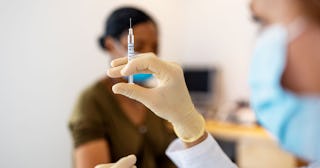 Luis Alvarez/Getty
When Pfizer/BioNTech and Moderna announced that their vaccines had an efficacy rate of 95% and 94.1%, respectively, it felt like a game changer. It felt like we'd reached the last leg of this very long, difficult road we'd all been asked to stumble down for the last year.
Since December 2020 when both vaccines were approved, so much of the national conversation has revolved around vaccines—when they'll be available and where, and who gets them and how. Because supply is still limited, states are being forced to make determinations on who should be vaccinated first.
The CDC published guidelines for states to use to determine vaccine prioritization, based on suggestions from the Advisory Committee on Immunization Practices (ACIP), an independent panel of medical and public health experts. The CDC prioritizes health care workers and residents of long-term care facilities in its first wave, and then includes frontline essential workers and those over the age of 75 in its second wave.
States, however, are not required to follow CDC ACIP guidance. As many states transition past the first wave, more and more are making choices that depart from federal guidance, either by creating exacting definitions of essential worker or by adding groups initially excluded under the federal guidelines. Which means, where you fall in the vaccine prioritization line may depend on where you live.
One group left behind in many states' vaccine prioritization plans is those who are under 65 years old, but with high-risk conditions that make them especially vulnerable to COVID.
Scary Mommy got in touch with Maura Wozniak, a 42-year-old mother of two in Charlotte, N.C. who has Cystic Fibrosis and underwent two double-lung transplants. She is now seeking to bring awareness to this often overlooked group, especially in her home state of North Carolina.
North Carolina originally prioritized high-risk individuals. In an email to Scary Mommy, Maura writes that she was thrilled when the vaccines were announced and that there was no question she'd be accepting the vaccine when it was offered. "I have taken part in many drug trials in order to move the dial forward and allow patients like myself to gain access to life-saving drugs."
Maura was in group two, but when North Carolina updated their priority list, Maura, and other high-risk individuals, were shifted down to phase four of five.
For Maura, the delay isn't simply a delay, but potentially a matter of life and death. "I am a realist so I knew if I ever got COVID I wouldn't survive." In an interview with a local Fox news station, Maura describes the situation in stark terms. "I can't take that risk of getting [COVID]. I don't have the privilege of getting it and coming out to the other side where some people do."
Maura underwent two double lung transplants, the first in 2012 and the second in 2013. "The first time I was admitted in the middle of the night and I was dying. I told the doctors not to give up on me because I am a fighter. And they never once did," she writes. Currently, Maura's lung function is at 60% and she's on immunosuppression medications that can impact what treatments she'd be able to take if she did get sick with COVID.
The Cystic Fibrosis Foundation echoed Maura's appeal in a letter to North Carolina lawmakers and called on North Carolina "to ensure individuals with serious underlying health conditions are prioritized for access to COVID‐19 vaccines, including those living with cystic fibrosis."
The CDC's guidelines were created with three guiding principles in mind:
Decrease death and serious disease as much as possible.
Preserve functioning of society.
Reduce the extra burden COVID-19 is having on people already facing disparities.
With that in mind, it's crucial that high-risk individuals, like Maura, be given prioritization for vaccines in all states.
The heart of the matter is that we need vaccines and we need a framework to distribute those vaccines to the people that need them as efficiently as possible. The vaccine rollout has been painstakingly slow but there's evidence that it's picking up speed. The country has gone from administering less than a million shots a day to giving out 1.7 million per day, with strong indications that the amount may increase further. Dr. Anthony Fauci, the country's top infectious disease expert, has said it could be open season on vaccination by April—although he's since scaled back that optimism.
In February, President Biden announced that his administration has secured an additional 200 million vaccine doses, bringing the total doses procured to 600 million—a supply increase of 50 percent. That was enough vaccine doses to administer a vaccine by the end of July to every American adult who would like one. That estimate has recently been moved up to the end of May, with the new Johnson & Johnson vaccine approval, and its partnership with vaccine manufacturer, Merck.
This is all good news. But still, when it comes to high-risk individuals, that timeline may not be fast enough unless they are prioritized in every state. Maura is urging state lawmakers to lead with compassion and consider how they would feel about prioritization for high-risk individuals if they, or one of their loved ones, was at high-risk of complications or death from the virus.
For Maura, her advocacy has resulted in success. North Carolina's governor recently announced that certain high-risk individuals will be eligible to receive the vaccine beginning March 24. This announcement has given her a reason to be hopeful, and she encourages other high-risk patients to remain hopeful as well. "If you don't have hope you have nothing," she writes.
This article was originally published on