This Totally Relatable Kid's Drawing Will Slay Any Working Mom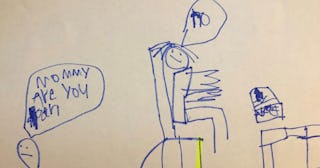 Priya Amin
Their exchange will feel familiar to too many of us
Mom and Flexable CEO Priya Amin is like most moms trying to work from home with kids at home. She shared a heartbreaking and relatable picture her son drew after an exchange one day, and it's received a ton of attention because, it seems, we're all very much feeling the same way.
Amin shared the picture and explanation on LinkedIn in December of a drawing her 6-year-old son, Kirin, made for her. It was a drawing of a parent at work and a child looking on. The child says, "Mommy are you done?" and the mother replies, "No," without looking back. It's what had actually happened between the two of them ten minutes before he gave his mom the photo.
"At first, without looking at it, I was like 'ohh that's so cute!'" Amin tells Scary Mommy. "But when I actually looked at it, I realized he had gone back to his room and drawn out our interaction from before — and it broke my heart."
The mom-of-two said she shared the image with colleagues who encouraged her to write a blog post. "I chose to share the blog originally via a LinkedIn post because I knew this was something universally felt by parents everywhere right now, and we're all feeling like we're shouldering this alone."
The picture resonated with thousands, and it eventually went viral. Amin says she didn't expect that sort of reaction when she shared it but understands it's an exchange that happens dozens of times a day in one form or another as parents attempt to balance work and home full-time.
"I started my company Flexable four years ago because I was personally struggling with the issue of childcare falling through for myself and now childcare support is even harder to find because of COVID," she explains. "Parents everywhere are struggling to juggle home and work obligations and it's causing massive burnout."
Amin explains how she started Flexable and how it's helping parents — especially during the pandemic.
Working with other companies and moms gives Amin a unique position to offer advice we all so desperately need right now.
"In terms of tips for other parents going through this right now, I'd say please be open and honest with your employer and lean on your team and your organization as much as you can to support you," she recommends. "Right now, we can't lean on friends and family, or our daycares and schools or other local support structures like we used to. The more we all reach out to our organizations with a cohesive rallying cry that, 'this is too hard to try to figure out alone — I need your help and support,' the more organizations will be willing to listen."
She's right. The days of women pretending we have it all together (or pretending we don't have a life outside of work at all) are over. We need help and the more this conversation happens, the more employers and colleagues can understand the severity of what is happening — especially to women — and what they can do to offload some of the burden and stress consuming us.
This article was originally published on