Priyanka's Calling Out Coverage Of Meghan Markle For What It Is -- Racist
by Christina Marfice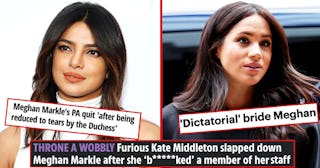 John Lamparski/Max Mumby/Indigo/Getty
Priyanka Chopra wants more people to realize that critical coverage of Meghan Markle is often based in racism
Members of the Royal Family (and particularly female members of the Royal Family) are no strangers to criticism. Kate Middleton was mocked for being a commoner in the early days of her courtship with Prince William. Sarah Ferguson's weight has been the subject of way too many headlines. And we all know what came of the paparazzi hounding Princess Diana. Now, Meghan Markle is enduring a different kind of scrutiny that Priyanka Chopra's calling out for being based entirely in racism.
Only a year into her life as an official member of the Royal Family, Meghan has seen piles of vicious tabloid headlines. From rumors of her supposed feud with Kate to stories that she's "difficult" with her staff, fat shaming during her pregnancy and relentless criticism of her baby shower, Meghan's tenure as a royal has been marked by scandal after scandal — except none of these things are actual scandals worthy of being reported.
Even Prince Harry spoke out in support of his then-girlfriend back in 2016, issuing an official statement referring to "racial undertones" in coverage of his future wife. And now, Meghan's good friend Chopra is also calling out all that pointedly negative coverage for what it truly is: racism. The pile-on of scandalous news stories surrounding Meghan's place in the Royal Family is rooted in the fact that people think a black woman has no place in the Royal Family, she says.
"It's racism, for sure. But if anyone can handle it, Meghan can," Priyanka said in an interview with the Times.
Priyanka said all the negativity surrounding Meghan is "really unfortunate," especially considering the Duchess has been heavily involved in charity work since joining the Royal Family. Because there's no real reason to criticize her, Priyanka says the racism behind all the criticism of Meghan is "obvious."
"Of course it has to do with racism, it's an obvious reason," she said. "But the beauty of Meg is that she's been herself through all of this."
And she has. Priyanka knew Meghan before she was a royal, and can attest to the fact that the duchess always wanted to make a positive difference in the world.
"A lot of people got to know her after everything, but I knew her before, and she's the same chick," she said. "Now that she's got a real platform, she talks about the same things she always did… We spent hours speaking about the difference that influence and dialogue can make to the world before this whole thing happened, so what you see now is authentically her. She's always been the girl wanting to move the needle."
She added, "Meghan is such a progressive, modern girl. She's what the world is today — a self-made woman who looks like each one of us."
Amen to that. The fact that Meghan Markle has continued to stay true to herself and work to make the world a better place in light of all the backlash she's faced is nothing short of inspiring. And we know she'll only continue to do great things.