Bethany Hamilton: 'Being A Mom Is Fantastic, But The First 3 Months Were Brutal'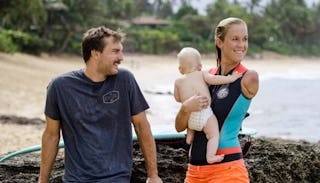 Bethany Hamilton is a 25-year-old pro-surfer who lost her arm in a shark attack when she was just 13 years old. She now has a 7-month-old child — and her routine and outlook on life is inspirational to say the least.
She opened up to the Daily Mail about her son, her accident, and her life. She is such a badass.
When asked what she will tell her son Tobias about her accident, Hamilton said, "As soon as he's old enough, I'm going to explain how I ended up with one arm, but then tell him life got even better because of what happened to me. I want to show him a shark might have bitten off my arm, but that doesn't stop you in life, it just makes you even more determined and stronger."
Hamilton says her pregnancy was a breeze and she didn't have a hard time with childbirth, but admits she's been struggling since Tobias was born. He was a colicky baby and she finds changing diapers a challenge. Can you imagine changing a squirmy 7-month-old's diaper with one arm? This woman is incredible. She says about her early days as a mom, "Tobias had colic and any mom that has dealt with that will know just how hard that is too deal with, so much so it's hard to enjoy the time together. You just have to keep thinking it won't last forever and you will one day get through it." She admits, "Being a mom is fantastic, but the first three months were brutal."
Her perspective on just about everything she's been through is so optimistic and hopeful — she's really an inspiration. After she lost her arm in a horrific shark attack, she refused to let it her destroy her dreams of being a pro-surfer: she began competing professionally four years later. The way she speaks about her accident is incredible: "Losing my arm made me gain so much and I'm excited to show Tobias photos of me back on the surf board to prove it. I hope my journey encourages him to follow his own dreams."
It's such a simple lesson: use our own experiences to inspire our children rather than teach them that there are limitations. When you approach life with that kind of attitude – how can you go wrong?