10 Ways To Make Family Photos Less Nightmarish
by Katie Cloyd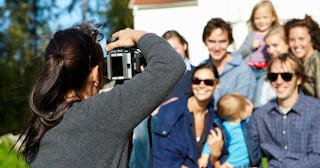 Ghislain & Marie David de Lossy/Getty
Ah, fall. It seems like the whole world can't wait for fluffy scarves, knee-high boots, crackling bonfires, apple cider, pumpkin patch hayrides, and the feeling of a crisp, cool breeze on a sunny autumn day. And it's the most "meme-able" of all the seasons. We are damn excited, and we don't waste a minute posting photos of fall leaves and steaming mugs with captions like, "It's Fall, Y'all."
We schedule family photos once or twice a year, depending on my mood (and the budget!). We haven't had any done since last Christmas, so I am particularly excited about this year's fall photos. They will be our last photos as a family of four, and they'll be pulling double duty as family/maternity photos. The best of the bunch will grace our holiday card.
Fall family photos are my personal favorite, but no matter when you choose to do your family photos, it never hurts to go in super prepared.
I asked three professional family photographers if they would share some simple tips for getting a memorable, beautiful family photo. They generously agreed to give us their best pointers.
1. Dress comfortably and don't worry about matching.
"The most important thing is to wear something you feel comfortable in, and that makes you feel like a million bucks. Don't force kids to wear something they are uncomfortable in, because that will show in the photos. When it comes to color, the key is coordination, not matching. Pick one or two accent colors, like burgundy and mustard, and use them in splashes to pull everyone together, rather than all matching perfectly. Definitely don't wear matching white t-shirts and jeans … unless you want to party like it's 1999!" — Carolyn Gann/ CarolynMarie Photography, Asheville, NC
2. It's okay to a little dressed up, but you don't need to go overboard.
"Dresses look great on camera and add movement in your photos. Have the men and boys wear colors that complement the women and girls, but don't match. Maybe a blush colored dress for her and a navy shirt for him. Layers look great, too. Don't wear anything you are not comfortable in! If you don't usually wear heels or a suit, do not wear them during your session." — Annette Keeter/Annette Marie Photography, Independence, MO
3. Forget posed photos.
"I typically don't even do posed photo sessions. I want to see families in their natural habitat. At the park pushing your smiling children on the swing, at the beach splashing in the waves, or participating in a yearly tradition (like apple picking). I genuinely love shots where families are interacting with each other–no props, no poses, just a moment where you can FEEL the love." — Dana Catapano/ Dana Catapano Photography, Wharton, NJ
4. Let your kids be silly.
"The best family photos in my opinion are the ones that truly capture you as a family; your natural interactions, reactions, and emotions. It's nice if we can get a few where everyone is sitting and smiling for the camera, but kids aren't designed to sit still. Trying to make them do it can result in everyone looking stressed and unhappy." – Carolyn
5. Bring your kid's blankie, stuffed animal, or other comfort object.
"If something makes your child comfortable (blanket, stuffy) that can come with you! I'd rather photograph a happy child holding a teddy bear than a sad, upset child whose parents are trying to recreate a Pinterest photo." — Dana
6. Don't forget your personalities.
"You cannot do anything to screw up your photos. No seriously! I promise! For kids, bring snacks, water, small toys. Heck, adults might like snacks too. Make sure you have comfy shoes with you to walk from location to location. Also, bring your faith in me! If I move you to a place, it's because I look for great light! I'm looking at all the little details I know will make a great photo." — Annette
7. Let the photographer peek into your lives.
"I once got to spend the whole day with a family, documenting them from wake up to bedtime. We played at the park, baked cookies, and I got to shoot them getting the kids ready for bed and tucking them in. It was such a beautiful glimpse into their lives, and I was so honored that they trusted me with those moments. They were all so comfortable and the parents just let the kids do their own thing. They didn't worry too much about getting perfect poses. It felt very natural and genuine." — Carolyn
8. Don't be afraid to get wet and dirty.
"I did a family session during a heavy drizzle. I brought clear umbrellas and hoped for the best. We went to a park with amazing fall colors, and they had so much fun. The kids loved being able to get wet and muddy, and we laughed the entire time! We got some great unique photos that people might normally be too afraid to try." — Annette
9. Embrace your reality.
"Last year, I did a family and maternity shoot while apple picking. We were capturing their current pregnancy and rainbow baby, but they also brought along the bear that honors their first daughter who was stillborn due to group B strep. Their living daughter (who is familiar with the bear and her older sister) interacted with the bear during the shoot. It made for cute photos that were truly special because all of their babies were captured together. I think everyone deserves a family photo like that." –Dana
10. Simple > perfect.
As you can see, you totally don't have to spend a gazillion dollars on identical monogrammed shirts, threaten your kids into sitting still and looking straight ahead, or try to plan your shoot around mealtimes! A seasoned professional photographer can get a great shot of your family doing whatever you do, even if your son is chomping on a granola bar, and your daughter won't even look at her! Family photos really can be a fun, stress-free experience. If you go into it relaxed and reassured by these pro tips, you can trust a great photographer to capture beautiful moments you'll want to look back on again and again.
This article was originally published on