Master Multitasking Professor Holds And Calms Student's Baby During Lecture
by Ashley Austrew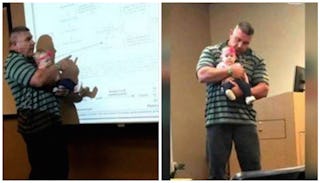 A kind professor helped soothe a fussy baby so her mom could focus on learning
It's a pain in the butt when childcare plans fall through, but for a parent in college, it can mean missing important lectures and can even hurt their grades. That's why one university professor went above and beyond the call of duty and cared for an upset baby so her mom could sit through a lecture without distractions.
Katy Humphrey is a 33-year-old wife and mom who's pursuing a degree in exercise physiology at Baylor University. Earlier this month, she was forced to bring her four-month-old, Millie, with her to class after her sitter unexpectedly cancelled. The baby started to fuss while sitting in the front row with her mom, so with no questions asked, Professor Darryn Willoughby scooped her up and cradled her for the duration of his 55-minute lecture. Video shows him holding the baby and carrying on as usual.
Humphrey tells Today this is the second course she's taken with Willoughby, and he shares a unique sort of bond with her daughter. "[Millie] would always kick when she would hear him talk, so our joke was that she either liked him a lot or not at all," she says. "Dr. Willoughby said if I ever needed to bring her to class, he was OK with it, so it made me feel relieved to know I would be able to learn and take care of my daughter."
Willoughby is not the first professor to lend a helping hand to a student with kids. Last year, a photo of a professor holding a baby at a small college in Jerusalem went viral, and just a few months ago, a professor at a DeVry University campus in Tennessee was snapped caring for a student's toddler during class. While it's impressive to see these professors going the extra mile, Willoughby says it's all in a day's work for a dedicated teacher.
"I didn't do it for myself," he told Today. "It's just about me looking out for and taking care of my students. It was an issue more so just her being able to feel more comfortable and relaxed in class… I carried her [Millie] around for almost an hour and she was totally content. We never heard a peep out of her the entire class."
Humphrey says she's very dedicated to her education and hopes to become a physical therapist who works with wounded warriors. She was inspired to follow her career path after spending 14 years in the Marines working as a Pashto linguist and signals analyst. With a young baby and a lot of work ahead, professors like Willoughby are essential to helping her reach her goals.
We pay a lot of lip service to congratulating parents who are able to make it through school while raising kids, but very few of us take time to consider the lack of resources and help available for parents in that position. It's a hard road, and I'm sure it means so much to Humphrey to know at least one professor values her and her education enough to lend her a helping hand. If only we could all treat each other with such compassion and kindness, there's no end to what we could help each other accomplish.
This article was originally published on