Professor Publicly Degrades Student Who Is Hard-Of-Hearing In Viral Video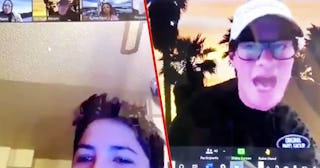 davenewworld_2/Twitter
The California community college professor, Michael Abram, has now been placed on paid leave
A tenured professor at Oxnard College, a California community college, is officially on paid leave and under investigation after a video of him surfaced that shows him lashing out at a student who is hard-of-hearing.
The video, initially posted in three parts on Tik-Tok, shows professor Michael Abram during a Zoom class session. The student recording the session on her phone is hard-of-hearing, and in it, Abram appears abusive and ableist toward her for not answering him when he was speaking.
He asks the student, who says she can hear him a little bit, why she hasn't been answering. It's not clear whether Abram was aware the student was hard-of-hearing prior to class, but a fellow student informed him of it and even after being informed, Abram continued to be abusive.
Below is a summary of the exchange on the video:
"Ms. Salazar I've been talking to you, Ms. Salazar," Abram can be heard saying.
"I can hear you a little bit," she responds.
"You can hear me a little bit? Why didn't you answer all the time I spoke to you then?" Abram, who teaches anatomy and physiology, says.
"I'm hard of hearing," she says as he continues talking over her.
"Why don't we talk sometimes? Why don't you email me? We'll set up a live Zoom and we're gonna have some real communication at some point in time," the instructor says aggressively. "Maybe you can have your counselor join us."
At that point, the second student intervenes.
"Professor? She's actually hard of hearing. So her translator goes in a little bit late. She can't respond right away," the student says.
Abram doesn't appear to care, continues to be rude, and dismisses the student who stood up for Salazar: "She's not paying attention. She's not trying. Are you her translator?"
"No, I'm not … but it's slower on her end because she needs to get it translated and then it goes through her hearing aide," she says.
"Ms. Salazar, have your counselor speak with me because you have too much distraction to even understand what's going on," he says.
Later in the video, Abram denies being abusive. "I'm not attacking you, I'm not attacking you," he says. "I'm just significantly disappointed in you. That's all, that's all it is. I'm not attacking you."
Many people who watched the video were justifiably outraged and upset at the cruelty and ableism displayed by the professor.
https://twitter.com/jetpack/status/1362830917983690753
https://twitter.com/jetpack/status/1362847673905201159
According to a statement from the college, Abram is now on administrative leave.
"I am saddened and outraged beyond words that any of our students should either be or feel disrespected by any of our employees," acting President Luiz Sanchez said in the statement.
This article was originally published on