The Story Behind This Viral Proposal Pic Is So Extra And We're Here For It
by Thea Glassman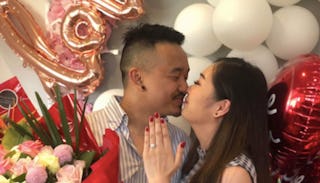 Image via Twitter/@goodgaljenjen
A newly engaged woman didn't have her nails done – so her cousin stepped in to save the day
Do you notice how in every single engagement photo the woman ALWAYS seems to have freshly manicured nails when she's debuting her new ring? It is confusing and impressive and maddening all rolled into one. Well, one future bride didn't have her nails done when her boyfriend proposed to her and her cousin stepped in with an incredibly creative solution.
Everything was all set for José's surprise proposal to Diana. Then, after she said yes, the photo taking started. "Diana is a super hardworking nurse so she rarely ever gets her nails done," Diana's cousin Jenna told Scary Mommy. "We were really excited about taking some photos to help her show off her ring, but she was a bit hesitant about using her own hand since she hadn't gotten a mani."
There was some discussion of quickly painting Diana's nails but they were all so excited that they didn't want to wait. Jenna suggested using her own hand for the picture and the result was pure gold.
I mean, if that's not resourcefulness and true family love then I don't know what is.
Of course, the actual picture Jenna took from her phone didn't quiiiite live up to engagement photo standards. But, I mean, she had a lot of multitasking to do.
https://twitter.com/jetpack/status/1058700218726723584
The internet was in FULL approval for this makeshift photoshoot. People were giving all the snaps to Jenna and her quick thinking.
https://twitter.com/jetpack/status/1058865129733922816
It was also an excellent moment for some women to inform their future spouses that they have ZERO intentions of getting engaged if they don't have fresh nails during the proposal.
Others were experiencing the harsh realization that they definitely need someone like Jenna in their corner – just in case.
Congratulations to José, Diana, and Jenna on their happy day. A small, important reminder that not all heroes wear capes – sometimes they're just your really thoughtful cousin, squatting on the ground, lending her cute, manicured nails.
This article was originally published on