Who Is Going To Protect America The Beautiful? Bad*sses Are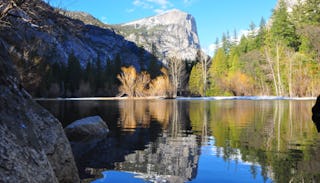 Shutterstock
Last summer, our family took a vacation to Yosemite National Park. I had been there once, briefly, as a child and it awed me then. But this time, well, words can't describe it. Photos can't really describe it either. Being there, surrounded by majestic mountains and hundred-years-old sequoias that a car can literally fit inside isn't something you can describe, it's something you have to see with your own eyes, something you have to feel, and I was thrilled to share this experience with my children.
One of the amazing things about our country is that this kind of natural beauty is all around us, from Maine to Oregon, from California to North Carolina and everywhere in between. There's a reason "America the Beautiful" was written and is still so popular: It's true. America really is beautiful.
That beauty — or at least a lot of it — is protected and cared for by the National Park Service (NPS), which is entrusted by the federal government and its citizens to safeguard the more than 417 areas and 84 million acres of national park land across the country.
Not only is the NPS charged with caring for, preserving, and protecting our national park land, it also makes the parks accessible and enjoyable to all Americans. For instance, through its Every Kid in a Park program, the NPS offers free access to hundreds of parks, lands, and waters for every fourth-grader and their family for an entire year. The NPS also seeks new ways to protect the land, its cultural resources, and respond to the effects of climate change. On January 6, shortly before the new president took office, the NPS released its Cultural Resources Climate Change Strategy, which is described as "a landmark statement for the NPS and its historic preservation and climate change partners about how to anticipate, plan for, and respond to the effects of climate change on cultural resources."
The NPS, as the protector of our national parks and our nation's land, takes science, facts, and data quite seriously — and prides itself on the public's role in the protection of our nation's most beloved lands. Unfortunately, the new administration doesn't seem to agree. On Tuesday, Trump signed an executive order to revive the Keystone XL and Dakota Access pipelines — Dakota Access would be a 1,172-mile pipeline allowing access to an estimated 7.4 billion barrels of oil while threatening the ecosystem around the Missouri River and the water supply of the Standing Rock Sioux tribe and destroying some of the tribe's sacred burial sites and cultural artifacts.
Then Trump issued a gag order on the Environmental Protection Agency — the federal agency responsible for protecting human health and the environment — freezing all EPA grants to states and local communities until further notice and banning staffers from issuing any press releases, publishing blog posts, and using social media. And as if that weren't enough of a punch to the gut of Mother Earth, he also issued an order barring the National Park Service from posting on social media after the agency published tweets pointing out the small crowd present at the inauguration.
Well, fortunately, the Badlands Park Service takes its role as protector of the environment seriously and decided to give Trump the middle finger, tweeting a bunch of accurate (factual) climate change data.
And then, just like that, the tweets were gone.
Sounds like some crazy fucked up shit out of a post-apocalyptic novel, right? Well, that's just par for the course these days.
While it isn't uncommon for a new administration to quickly take control of federal agencies' public relations tools, according to the Washington Post, the "sweeping nature" of the Trump Administration's actions — not to mention the exacting retributions taken when an agency doesn't toe the line — are unusual to say the least. Combine that with the fact that the new Administration has a fetish for "alternative facts" (i.e., lies) and its refusal to believe cold, hard scientific data that climate change is real (yes, I'm yelling), and you've got nightmare fuel for years.
These are desperate times for those of us who care about things like science, facts, and our Earth. And desperate times don't just call for desperate measures; they call for risks, courage, and some resistance. Fortunately, there are people stepping up to the plate with their badass selves so that we don't all go down into a heap of flames, taking our planet with us. After the Badlands tweets were deleted, the Golden Gate National Park Service tweeted out factual information about climate change as well. Badass. A political action committee has been formed to support scientists in running for office. Badass. A group of unidentified National Park Service employees have created an unofficial Twitter account at @AltNatParkSer to disseminate information, beginning with the now-deleted climate change tweets from the Badlands National Park. Badass. And even before the new administration took office, some scientists engaged in a "guerrilla archiving" event, where experts copied irreplaceable public data about climate change and compiled an online site to house scientific information. Total badasses.
Look, reasonable people can disagree about the ins and outs of things like economics and policies, but facts are facts. Science is real, and climate change affects us all. It's about time for us all to get a little badass, because Mother Nature doesn't care if you're Republican or Democrat.
This article was originally published on