These 'Proud Boys' Tweets Will Give You Life And Bring You Joy
by Sa'iyda Shabazz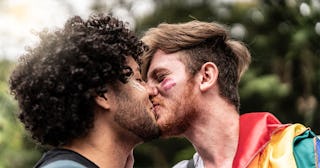 FG Trade/Getty
White supremacist men are fragile AF. It's hilarious, considering they're the first ones to throw around the term "snowflake." But we know they're not exactly the most logical. The Proud Boys, arguably the most famous white supremacist group outside of the KKK, were giddy with delight when their bigot-in-chief mentioned them during the first Presidential Debate. Instead of denouncing white supremacy like he was asked to do, he told them to "stand back and stand by." But what happened next isn't something any of them could have anticipated. Queer men decided to troll the trolls and turn the hashtag #proudboys on Twitter into a reclamation of mlm (male loving male) love and joy. And lemme tell ya, those "boys" are not happy.
It's important to note that the white supremacist Proud Boys are banned from using Twitter. And they have been since 2018. Since we know Twitter is a cesspool of hate, they must be pretty terrible. The Southern Poverty Law Center and Anti-Defamation League label them a hate group, with the League calling their ideology "misogynistic, Islamophobic, transphobic, and anti-immigration."
LGBTQ Twitter is one of the most fun corners of that hellsite, and they're always up for a little fun. Actor and activist George Takei is the one who really got this whole hashtag started. "I wonder if the BTS and TikTok kids can help LGBTs with this. What if gay guys took pictures of themselves making out with each other or doing very gay things, then tagged themselves with #ProudBoys. I bet it would mess them up real bad. #ReclaimingMyShine," the actor tweeted on Thursday.
Takei's tweet was a rallying cry for gay Twitter, and they really came through for him. The new Proud Boys hashtag is one of the most beautiful testaments to love you can find right now. It shows that male loving males are a spectrum, and more than just the stereotypes we see.
One of the most popular tweets is from the Canadian armed forces in America. In the photo, a serviceman in uniform is kissing his partner. "If you wear our uniform, know what it means. If you're thinking about wearing our uniform, know what it means. Love is love. Know what we mean?" the tweet reads.
Since the group doesn't isn't allowed to use Twitter, their main place of discussion is a social media app called Parler. Parler is mostly a space for conservatives to spread their hateful ideals without fear of retribution. Of course that doesn't mean it's impossible to find, but they're less likely to face a ban for hate speech or general bullshit. As you can imagine, their Parler account, which boasts 60k members is full of hateful messages about the gays taking over Proud Boys on Twitter.
The Proud Boys' leader, Enrique Tarrio, a Cuban American who is also the leader of grassroots group Latinos for Trump, alleges that the takeover doesn't bother the group.
"I think it's hysterical," he told CNN. "This isn't something that's offensive to us. It's not an insult. We aren't homophobic. We don't care who people sleep with. People think it's going to bother us. It doesn't."
He went on to say this: "One of the messages they want to send with this is that they're trying to drown out our supporters, they're trying to silence us. … When you're trying to drown out other people's thoughts, I don't think there's anything progressive about that. Why don't these people just engage?" Please hold on while I take a minute to crack the fuck up. Because in what world would anyone with an ounce of sanity ever engage with these people?
"They're trying to silence us," he whines, when he literally runs a group that tries to silence millions of citizens simply because they exist. But yes Enrique, tell me how a bunch of gay men on Twitter are trying to oppress you because your group literally exists to hate people. What is it like to believe that your feelings and ideology is the most important? How do these "Proud Boys" delude themselves into thinking that what they believe actually adds value to this country? But then again, they're taking their cues from the president, who is the most visible symbol for white supremacy out there.
But the #proudboys movement is truly a sign that love can be bigger than bigotry. There are thousands of tweets showing examples of open love by all kinds of men. It's bigger than just drowning out the noise of one very large and intolerant group. It's a way to be forward facing and unashamed in their pride for who they are.
"Seeing the hashtag was so uplifting," participant Matt Dechaine told CNN. "It feels like the movement for positive change for all is gathering momentum all the time and I'm glad to be a small part of it. By coming together rooted in respect and love for each other, the world can be so much better!"
"Look at these cute lil #ProudBoys (#retweet and make this hashtag about love, not hate)," Queer Eye star Bobby Berk wrote, sharing a picture of him and his adorable husband.
"@JerickFL and I are joining thousands of gay men on social media to reclaim #ProudBoys from white supremacists and bigoted neo-nazis," he tweeted. "Let's replace the hashtag with images of love, positivity, and true PRIDE! Your two favorite #ProudBoys are here standing by, ready to VOTE!" tweeted Carlos G. Smith, a congressman and Florida's first Latinx legislator to openly be a part of the LGBTQ community.
Former Democratic Coalition chair Jon Cooper, who is also a former campaign chair for Barack Obama, joined in as well, tweeting: "My husband Rob and I are two #ProudBoys. Here we are with our five wonderful children."
Sometimes trolling isn't bad. But only if you're trolling unabashed white supremacists.