Grandpa Weeps Watching Grandson In NHL Draft, Internet Melts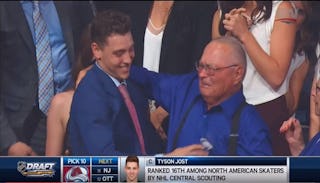 Grandpa weeps with pride as grandson is drafted into NHL
Parenting is all about sacrifice. Grandparenting is nothing but gravy. At least, that's what it's supposed to be, right? Once your kids have kids, you dote on them, spoil them, avoid any and all kinds of discipline, and get nothing but the good stuff. Not for these grandparents, who took their teenage grandson in to help him achieve his dream. And over the weekend, it paid off.
In a video on Yahoo! Sports, Tyson Jost's grandfather is caught weeping with joy as his grandson is drafted into the NHL.
As a young teen, Tyson had an opportunity to get a leg up in his dream of playing hockey professionally by attending the Pursuit of Excellence school in Kelowna, B.C. Unfortunately for him, it was far away from where he lived with his mom, and if he was to attend, he'd have to leave her. A single mother, she had raised him alone and suddenly found herself forced to make a tough decision about his future. Thankfully, his grandparents stepped up.
Actually, they did far more than step up. They put aside their retirement and moved to Kelowna with Tyson.
No pushovers, Tyson's grandparents had raised his mother in a tough but fair household, and Tyson would soon experience the same lessons of hard work and discipline. It appears to have paid off in spades. Not only was he drafted in the top 10, apparently he made quite an impression on many of the teams he met with. He was raised well, by his mother and his grandparents.
My parents love my kids, and they would do anything for them. Although I'd probably be pushing it if I asked them to move in with and take of them as teenagers. For most kids, getting spoiled by their grandparents is a treat in and of itself, but being raised by them, and shepherded into a lucrative athletic career by them, largely because of their sacrifice? I hope Tyson does the right thing when he signs his first pro contract and spoils his grandparents right back.
Although judging by the tears of happiness on his grandfather's face, they're spoiled already.
This article was originally published on