Hospital Asks Volunteers To Sew Medical Masks To Help Battle Coronavirus
by Christina Marfice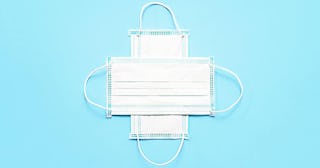 Iryna Veklich/Getty
Do you have a sewing machine at home? If so, you can help address the growing nationwide shortage of medical masks
As the coronavirus keeps spreading in the United States and around the world, the hardest-hit countries are facing a serious problem: Medical supply shortages. With thousands of new American cases now being detected each day, the epicenters of the U.S. outbreak are already feeling this pinch, especially when it comes to medical masks, which have been in short supply across the country — and around the world — for weeks.
The Seattle area was the first place in the U.S. to have a major outbreak, and it remains one of the areas of the country with the highest number of confirmed cases. Now, Providence Hospital, which is located in Renton, a suburb of Seattle, is calling on people who can sew to help out. With their "100 Million Masks Challenge," Providence Hospital hopes people all over the country can help provide the medical supplies hospitals are already running out of.
"The global demand for personal protective equipment (PPE) has created a severe shortage of PPE across the world. While regular distribution channels ramp up, we need to act now to ensure caregivers have the isolation masks they need to do their jobs safely," the hospital's website reads. "So, we're calling on you! Anyone with a willing heart and the ability to sew can help us protect our caregivers by sewing masks they can wear on the front lines of the fight against COVID-19."
"We are starting with Western Washington, which is one of the hardest hit areas in the nation," they explain. "The effort will grow from there over the coming days and weeks so eventually everyone can participate."
Anyone who has a sewing machine and knows how to use it can volunteer for the project. You can sign up at the Providence Health website, and the hospital will provide kits with all the supplies and instructions needed to create 100 masks at a time. Currently, volunteers can only pick up the kits in person at a Providence Health location, but as demand grows, they'll likely be available by mail. New pickup sites are also going to be added later.
"Let's come together to keep our health care workers safe, so they can safely care for our patients," the hospital said.
Information about COVID-19 is rapidly changing, and Scary Mommy is committed to providing the most recent data in our coverage. With news being updated so frequently, some of the information in this story may have changed after publication. For this reason, we are encouraging readers to use online resources from local public health departments, the Centers for Disease Control, and the World Health Organization to remain as informed as possible.