PSA: Amazon Has Sample Boxes Without The Monthly Subscription Requirement!
by Samantha Angoletta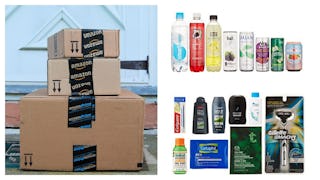 jahcottontail143 / iStock
Amazon is getting in on the sample box trend, and offering various themed boxes filled with trial sized products and treats (for Prime members).
The cool thing about Amazon's program? No subscription required, the box arrives at your doorstep in two days, and you also get your money back via an equal promotional credit (good towards the purchase of similar items found in the box).
You can try one, or try them all.
Right now, they've got a women's beauty box for $11.99:
And a men's grooming box for $9.99:
A couple of beverage options, that offer a variety of different (non-alcoholic) drinks for $9.99:
And a sports nutrition themed box, with various items to fuel your workouts:
These are fun to try, and you don't have to worry about monthly charges or cancellations or any other annoying thing.
Once the items have shipped, you should receive your credit via email from Amazon. The email will have the details you need to utilize the credit, as well as the products that are eligible for purchase using the promo. The list is often quite long, so you likely will not be disappointed.
Now, I'm just crossing my fingers for a coffee sampler, or a fancy cheese sampler, and I know what you are thinking: "What about a booze sampler, Sam?" but I am a realist. So, let's not get our hopes up for that one, folks.