It Took A Court Order To Stop U.S. Officials From Giving Psychotropic Drugs To Migrant Kids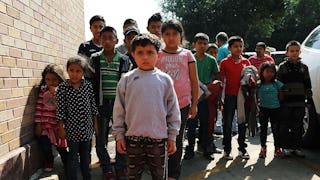 Image via Spencer Platt/Getty Images
It took a court ruling to stop U.S. immigration officials from forcing psychotropic drugs on minor migrant kids
Yesterday, a federal judge found that immigration officials at a facility in Texas have been giving psychotropic drugs to migrant kids without theirs or their parents' consent. Yes, this is really something that was going on. And yes, it's taking a court order to stop the horrifying practice.
Following a ruling by U.S. District Judge Dolly Gee, Trump administration officials now have to get either a parent's permission or a court order before administering psychotropic drugs to minors. The judge also ordered almost all children be moved out of the Shiloh Residential Treatment Center, a Texas facility where this drugging allegedly took place.
Government officials claimed they were giving kids the drugs only on "an emergency basis," when children posed a danger to themselves or others. But according to Judge Gee, that's impossible, since kids testified to being given that medication sometimes twice a day. It "could not have possibly" been an emergency if the medication was given on a schedule, Gee said.
The kids themselves testified that they were often not told what drugs they were being given or why, and that they experienced side effects like nausea, dizziness, depression and weight gain. They also said that if they refused the drugs, they were detained longer or given forced injections.
"I witnessed staff members forcefully give medication four times," one child housed at Shiloh told the court. "Two staff members pinned down the girl… and a doctor gave her one or two injections."
The girl who told that story was prescribed several psychotropic medications herself, reportedly to treat anxiety, without her mother's permission, even though detention center officials had her mother's contact information. Her mother said she's had a range of side effects, including shaking, losing her balance and falling several times.
Shiloh has a frightening history of allegations of child abuse, including excessive use of physical restraints for kids, and several deaths of children housed there. Since 2013, Shiloh has been contracted by the federal government to house unaccompanied minors who entered the U.S., and more recently, was used to house kids separated from their parents under Donald Trump's zero-tolerance policy. Kids there have told reporters stories about not being allowed to make any private phone calls, or being tackled by guards for trying to get water.
Just another atrocity committed against children. The world is watching what we do to these kids, and it won't forget this. All in the name of making America great again, right?
This article was originally published on