These Photos Show The Beauty Of Breastfeeding In Real Life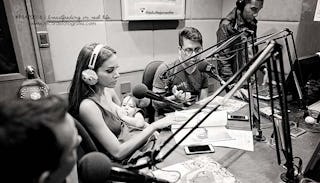 Image via The Public Breastfeeding Awareness Project
The Public Breastfeeding Awareness Project aims to destigmatize public breastfeeding
In 2013, photographer Leilani Rogers put a call out to breastfeeding moms; she wanted to document them nursing in public, as a way to destigmatize it. "I'd always struggled with nursing in public. It was extremely nervous about negative reactions," she tells Scary Mommy.
She reached out to moms, asked them where they felt most comfortable breastfeeding, and went from there. "The response was so positive that year that in 2014 I invited other photographers to join me," Rogers explains. What started as a personal project evolved into The Public Breastfeeding Awareness Project, and includes photographers and moms from all over the world. "We had around 50 photographers then and have grown to 70 now. We have been photographing moms in the US, UK, Australia, Canada, Italy, Venezuela, Brazil and Estonia."
"Our vision is 'the more you see something, the more normal it becomes,'" Rogers says. "And with there being so much controversy over this topic, the project is clearly needed. Anyone who's taken the time to talk to breastfeeding moms like we have, and we are talking hundreds of moms from around the world, know that this is a real problem."
"Their stories tell the truth," explains Rogers. "The fact is there is a lot of judgement towards moms who breastfeed in public. There is a lot of judgment about how it should be done (covered/uncovered) and where (go the bathroom, bring a bottle, etc.) There are assumptions that if you choose to do it openly and without a cover then you are a narcissist. It's sad and it's ridiculous to say that."
It's so true. Time and time again when we cover stories of moms being shamed for breastfeeding in public, there is always someone who arrives in the comment section to remind women they should use covers, be discreet, or bring bottles. Even mothers who breastfed occasionally chime in with, "I breastfed for years and never had to do it in public!"
And?
Maybe some women are uncomfortable with breastfeeding in public, but that's their issue. It's legal, it's normal, and it's necessary. A baby's need to feed trumps a bystander's need to be offended by it.
'If as a society we'd stop looking at a woman's body as purely sexual, we might get over the sight of a mother meeting her child's needs in the middle of the grocery store," says Rogers. "We might reserve judgement for more important issues."
Amen.
This article was originally published on