Man With No Family Invites Public To Funeral For Wife He Lost In El Paso Shooting
by Christina Marfice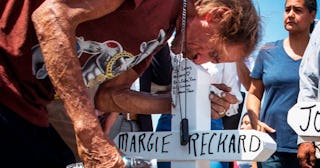 MARK RALSTON/Getty
Antonio Basco wants the people of El Paso to attend his wife's funeral, and it looks like they're going to turn out
The city of El Paso is getting ready to turn up in a touching show of support for a man who lost his wife in the shooting there last week. After his wife died, Antonio Basco has no other family in town, so he's invited the public to attend her funeral. His heartbreaking request is going viral and it looks like people are going to pack the place to celebrate her life. This is what true unity in the aftermath of a tragedy looks like.
63-year-old Margie Reckard was one of 22 people killed when a man opened fire at an El Paso Walmart. He was targeting Latinx immigrants in his racist attack.
Reckard and Basco were a common-law couple who had been together for 22 years.
"When I met her, she was an angel, and she still is," he told KFOX-TV of El Paso. "I was supposed to be the strong one, but I found out I'm the weak one, and she's going to be missed a lot."
He added, "When we first met, that feeling came to each one of us, to each other, and we've been together ever since. We were going to live together and die together. That was our plan."
Reckard has some out-of-town family who will be traveling to attend the funeral, but Basco has no family left after her death. So he's turning to the community, and they're turning up for him.
https://twitter.com/jetpack/status/1161446696108343296https://twitter.com/jetpack/status/1161453043411542016https://twitter.com/jetpack/status/1161496849481641986
People are even saying Presidential hopeful Beto O'Rourke and his staff plan to attend, though that's not confirmed.
And people who don't live in El Paso are working together to send cards, flowers, meals, donations, and whatever else they can gather up.
https://twitter.com/jetpack/status/1161434537878085634https://twitter.com/jetpack/status/1161439433507385351
The El Paso shooting happened just 13 hours before another shooting in Dayton, Ohio, killed nine. In total, in just one day, 31 people were killed and dozens more were injured from mass shootings in America. The weekend marked this country's 250th and 251st mass shootings in 2019 alone.
So far, the way we've reacted has been exactly the same as the literal thousands of other times a mass shooting has occurred in every American's lifetime so far. We're horrified. We wonder when the next shooting will be. We feebly call for gun reform to prevent more of this senseless violence in the future. And then we let the headlines fade away and we continue to elect leaders who will do nothing about gun violence, even though it is absolutely up to them to stop it.
Will El Paso be among the last? Since nothing is being done, no. It won't. We'll repeat this cycle again. This won't be the last time our hearts break for the grieving family of a victim. It's wonderful what the world is doing for Antonio Basco, but imagine a world where we didn't have to.