Publix Is Making 'Hurri-Cakes' For Floridians Preparing For Hurricane Dorian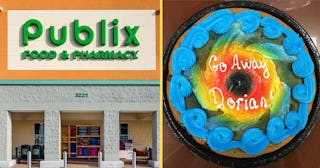 John Greim/Getty and Maria Guido
Many Publix stores across Florida are selling the cakes and cookies
As Hurricane Dorian barrels toward the coast of Florida, people are understandably in prep mode. Residents are stocking up on essential items like batteries, water, toiletries, and — if you shop at Publix — a Hurricane Dorian cake.
Some Publix bakeries around Florida are trying to keep people's moods up as they prepare for the storm headed their way early next week. Forecasters are doing their best to use predictive models to give residents of eastern Florida ample time to leave for safety but in the meantime, sugar and chocolate will hopefully help ease the stress.
Pictures of hurricane-themed cookies and cakes are popping up on social media this week, featuring an array of Florida-shaped sugary delights with tufts of blue icing waves and bright red eye icing indicating the eye of the storm. The chocolate chip cookie version costs $10.99 and weighs one pound, which means that's the absolute most you can gain if you eat the entire thing in one sitting.
Other varieties include gorgeous tiered cakes with icing spelling out "Go Away Dorian," and another with a hurricane checklist of beer, snacks, water, and of course, sugar.
Obviously, this storm is no joke. People are boarding up windows, bringing indoor furniture out, making plans to stay with friends and family, and taking care to find places for their pets if the storm continues to gain strength. But Floridians are tough — they've been through this before and they always manage to keep their sense of humor about living in an area where bugs the size of their hands, alligators, snakes, humidity, and hurricanes come together to provide a cocktail of surprises for the locals. When shit happens — Publix believes it can be made better with some treats — and many agree.
https://twitter.com/jetpack/status/1167096564373999616
https://twitter.com/jetpack/status/1167505453712064512https://twitter.com/jetpack/status/1167287716897263618
For the most part, the hurri-cakes have been welcomed with open arms by Floridians who might as well have something tasty to nosh on while preparing. Others felt the grocery chain shouldn't make fun of something that can cause destruction. Hey, the whole country has benefitted from looking at hurricane path maps that looks like a giant penis — at least the people dealing with the hurricane can get something just for them. They are a hardy bunch willing to help strangers and friends if Dorian makes landfall. Let them eat cake.
The storm is forecast to make landfall between Cape Canaveral and West Palm Beach on Monday morning if it continues to pick up speed and stays on course. We hope everyone stays safe.
This article was originally published on