Your Kids Should Be Watching 'Puffin Rock' (Because You Won't Hate It)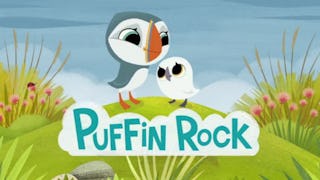 Cartoon Saloon / Netflix
If you need a calm, peaceful show for your tots to watch before bed, you need yourself some Puffin Rock, an Irish cartoon about an island in the middle of the sea. The main character, Oona, is a puffin who lives with her white fuzzball of a baby brother, her parents, and a cast of other characters including Silky the Seal, Mossy the Shrew, and Finn the Fox, plus a lot of annoying seagulls.
She has little adventures with her friends: She helps Silky find her clam friend. She helps Mossy when he moves away from the rest of the selfish shrews. In fact, Oona's always helping someone, baby seagull or a migrating bird. All of this is narrated by Chris O'Dowd (of Bridesmaids fame) with actual hand-drawn animation.
Puffin Rock gets better. Oona goes out of her way to be friends with everyone on the island including a baby seagull who hatches on her watch; Bernie, an elderly hermit crab; and especially her little brother Baba, with whom she doesn't fight or argue, and who makes adorable squeaky noises (which, when coupled with his white-puffball-esque body, wins him the trophy for Most Adorable Cartoon Animal Ever). Her parents aren't perfect, but they do impart wisdom and ask the kids to do things like clean out their burrow.
Perhaps best of all, Puffin Rock was developed and produced by Cartoon Saloon's Tomm Moore who did the Oscar-nominated Secret of Kells and Song of the Sea. This sea-based cartoon bears a striking resemblance to its feature-length big brothers with gorgeous, almost-3D landscapes and carefully hand-drawn characters. But Puffin Rock is gentle; there's conflict, and interesting conflict, but it's never especially high stakes or dangerous.
There are two 15-minute shows per episode — the perfect length to chill out when tempers run hot or just when small people (ages 3–6 seems to be the show's target) need a break from life. We've been known to use it as a calm-down tool before bedtime. And it works.
You can find Puffin Rock streaming on Netflix. It's pretty, it's sweet, there's little conflict, and Chris O'Dowd's narration is both wise and gently funny. Even the theme song isn't annoying, though you'll find yourself humming it at odd times. If you need some calm-down time, Puffin Rock is perfect. And if you just want gentle, non-commercial media, Puffin Rock also fits the bill. Basically, it's a winner — for me and for my kids.