The Pervasive Sense Of Entitlement Of White Parents When It Comes To 'Good' Schools
by Melodie Baker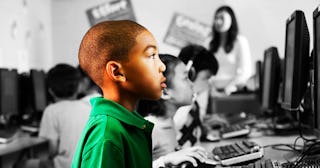 Scary Mommy and Ariel Skelley/Getty
Amid the COVID-19 pandemic and the tragic death of George Floyd, my husband and I decided to pull our four Black children out of Williamsville Central, arguably the highest performing school district in Western New York. We moved them to a more racially diverse, mixed achievement school that had all the same courses and an academically competitive environment. It also offered something that my children desperately needed: an opportunity to have Black friends, enjoy Black culture, and understand their Black identity organically.
But there was something else I couldn't put my finger on. That something became clear after my work on Governor Cuomo's advisory council on reopening schools involved participating in district-parent Zoom meetings across the state—Williamsville included.
Though every district faced the same issues around reopening schools, the Zoom meetings revealed a tale of two pandemics: Most of them began with superintendents announcing that due to COVID-19 there would be significant changes to the instructional schedule, but they diverged from there.
A nearby, mostly Black, district announced that all students would be learning remotely from home yet, 2,400 students and staff lacked internet access. That same district would not have devices for Pre-K – 2nd grade students by the beginning of the school year.
One mother said she is an essential minimum wage worker and couldn't afford childcare, let alone quit her job. Another parent said, "It doesn't matter if we have devices or not. After schools closed in the spring my child's teacher never taught a single lesson."
Meanwhile in the Williamsville Zoom meeting, white middle- and upper-class parents rejected the superintendent's hybrid schedule. A prominent attorney asked the superintendent who would compensate him for hiring a tutor or teaching his child on the three days when there was no in-person instruction. But nothing would compare to the reaction to the superintendent's announcement that Advanced Placement courses, as well as SAT preparation, would be eliminated for the year.
The parents accused the superintendent of nothing short of treason, education neglect and "reverse racism." One parent blurted out, "How could this possibly be equitable?" Equitable for whom? The Black children 20 minutes away without internet and devices?
I witnessed parents in my neighborhood feverishly organizing to fight the elimination of AP and advanced courses, while at the same time refusing to protest for Black Lives Matter after George Floyd's death—saying they didn't get involved in politics. While grocery shopping, I could hear parents discussing which private schools were offering college prep courses. Conflicted, I listened in, and asked myself, "Am I a bad mother for prioritizing cultural identity at a good school over a school that is considered the best? After all, my husband and I worked hard to make up the ground of class and opportunity gaps while clawing, begging, and borrowing our way to the 'American Dream.'"
It was at that moment I realized what had haunted my husband and me: the pervasive and blinding sense of entitlement. Williamsville had offered us a cozy seat to watch the under-education of Black children from the stands like spectators.
My husband and I removed our children from the Williamsville Schools not just because we know firsthand the benefits of going to school with Black children, but because we know the best way to combat inequality is through a diverse set of collective voices, resources, and vested community interest. The underfunding of Black and minority schools thrives on the incentivization of homogeneous tax bases. "Good schools" are not a reflection of ability, but of the resources of the people who attend them.
Williamsville parents were anticipating news that the school district would be meeting their demands—traditional face-to face instruction and unlimited AP courses—but an unexpected turn of events has resulted in a delayed school reopening set for an undecided date in October. More than 200 teachers in the district resigned and or requested a leave of absence. As a result, the school board placed the superintendent on an indefinite leave.
As for the mostly Black, urban school district, the parents still don't know if their kids and teachers will receive their devices or access to internet "hot spots" before school reopens. Imagine the difference it would make in a school if some of the well-resourced families attended schools within the lower and mixed-income districts. Imagine if schools were more diverse and that white children had a Black best friend and grew up around different cultures—learning about racial identities. Going to school with Black children is good for everyone, not just the Black kids. I know my children and my resources alone cannot change an entire school, but hopefully it will inspire other families to join me in working towards a more equitable education system, while redefining what it means to attend the "best" schools.
This article was originally published on