50 People Killed In Florida Nightclub Shooting, Worst Mass Shooting In US History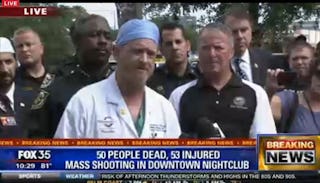 50 dead, 53 injured in Orlando night club shooting
The city of Orlando is mourning after 50 people were killed and 53 were injured in a mass shooting at a gay nightclub early Sunday morning. Officials are calling the mass shooting at Pulse Orlando an act of domestic terrorism. Orlando Police Chief John Mina called the shooting the worst in American history.
An Orlando police officer was working at the club that is just a few miles from downtown when he heard gunshots around 2:00 a.m., Mina said. The two were in a "gun battle" before the suspect took multiple hostages inside the club. Eventually police shot and killed the gunman, who they said was carrying an assault rifle, a handgun, and possibly had an explosive device, officials said. Original reports identified 20 victims, but once law enforcement officials were able to get inside the nightclub they found additional victims. Orlando Mayor Buddy Dyer said the city is in a state of emergency following the shooting.
A witness described the horrific shooting in the below video.
This video was shot outside of the club as paramedics and police helped victims.
Pulse is a popular gay club in Orlando. The small club is in the Sodo neighborhood, which stands for south of downtown. When the shooting happened someone with access to the club's Facebook page posted "Everyone get out of Pulse and keep running."
Police Chief Mina held a press conference Sunday morning to give the community updates on the tragedy. Additional details have since been released and will continue to be released as law enforcement learns more through the investigation.
CBS News reported that the suspect has been identified as 29-year-old Omar Mateen of Port St. Lucie. The news organization said authorities are investigating possible ties to Islamic terrorism. Sources said that Mateen is a U.S. citizen with no apparent criminal history. NBC News spoke to Mateen's father over the phone. "We were in Downtown Miami, Bayside, people were playing music. And he saw two men kissing each other in front of his wife and kid and he got very angry," Mir Seddique, told NBC News. "They were kissing each other and touching each other and he said, 'Look at that. In front of my son they are doing that.' And then we were in the men's bathroom and men were kissing each other.'
Seddique told reporters that his son was a husband and father to a 3-year-old boy. Mateen was born in New York and lived about two hours south of Orlando. His father said he worked a security job and attended Indian River State College. "We are saying we are apologizing for the whole incident," Seddique told the news organization. "We weren't aware of any action he is taking. We are in shock like the whole country."
Orlando residents have responded to the mass shooting in various ways. Some are bringing food and water to the site so people can wait to be reunited with their injured family members. After officials made a call for blood donations hundreds of people showed up at local hospitals. Authorities have asked that people wanting to donate blood go to one of the city's blood centers.
Pulse was hosting Latin Night and last posted about it on Instagram. Commenters have taken to the post to leave their messages of mourning. "Wow my heart aches for what I've just seen on the news sending many prayers put to those injured and my condolences for those who lost their lives," one commenter wrote. People have started changing their Facebook profile photo to show support for the shooting victims and the nightclub.
Congressman Alan Grayson was at the scene Sunday morning. "It might be that we've seen a commission of an awful hate crime last night," he said. FBI officials are asking anyone who was at the club last night to reach out to law enforcement officials. The White House Press Secretary released the following statement, "The President was briefed this morning by Lisa Monaco, Assistant to the President for Homeland Security and Counterterrorism, on the tragic shooting in Orlando, Florida. Our thoughts and prayers are with the families and loved ones of the victims. The President asked to receive regular updates as the FBI, and other federal officials, work with the Orlando Police to gather more information, and directed that the federal government provide any assistance necessary to pursue the investigation and support the community."
Barbara Poma opened Pulse with her friend and co-founder Ron Legler in 2004. Poma started the club as a way to raise awareness about Central Florida's lesbian, gay, bisexual and transgender community. "Being raised in a strict Italian family, being gay was frowned upon. However, when John came out to his family and friends, the family dynamic transitioned from a culture of strict tradition to one of acceptance and love," Pulse's website reads of Poma's brother. "It was important to create an atmosphere that embraced the gay lifestyle with décor that would make John proud. Most importantly, (we) coined the name Pulse for John's heartbeat — as a club that is John's inspiration, where he is kept alive in the eyes of his friends and family."
This article was originally published on